"There is absolutely no doubt that he is the best clayman of all time. But it's amazing how obsessed he is with victory. Borg won six times in Paris, felt worn out and ended his career. However, Nadal has already announced an attack on the fourteenth title from the French Open, "former Daviscup player and captain Jan Kukal shakes his head.
His companion Jan Kodeš won the clay temple in Paris in 1970 and 1971. He knows what hard work it costs. "It's still true that whoever doesn't spoil wins … Nadal has incredible confidence in the balloons, his opponents are constantly under pressure and everything is supported by the best physical condition in the world. It's a triple combination he wins in Paris, "Kodeš claims." This time he also loaded heavier balloons. This further enhanced his advantage. "
At the US Open, where he triumphed four times, Nadal has an overall score of 64:11, but at the French Open, his match score takes on completely absurd proportions of 100: 2! Only in 2009 did he lose in the 4th round to the Swede Söderling and six years later he did not manage the quarterfinals with Djokovic.
Rafa tortures his opponent
"He has it like his living room," Kukal laughs. "Nadal tortures his opponent completely. He has incredible concentration from the beginning, he jumps on it right away. "Kodes nods. "Nadal can be defeated if you win the first set. Once you lose him, it's very difficult. "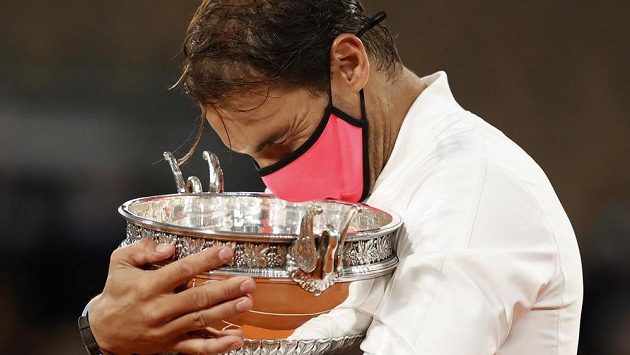 Rafael Nadal is in love with the Musketeers' Cup for the winner of the Grand Slam French Open in Paris.
Christian Hartmann, Reuters
Djokovic was also convinced of this, tired of the five hundred hundred semifinals with the Greek Tsitsipas. "McEnroe advised him to play stopballs, but it's not possible to beat Nadal like that. Djokovic broke the basic technique until the final set was even in the third set, but in total he showed over 50 unforced errors, which is completely unusual for him, "says Kukal.
"Nadal forces people to take more risks, but he moves well, so even if you play super balls in the corner, they still come back to you and it kills the player," agrees Kodeš.
According to him, Nadal's great motivation was to call twenty Grand Slam titles of Roger Federer. "I know from the corridors that Nadal and Djokovic mind how Roger is constantly promoted as a model tennis player, a family type that is ideal for promoting large companies. So they want to beat him at all costs. And since Rafa knows that on grass and concrete, he is not so sure, he works on clay, "says Kodeš.
"But winning thirteen times is unbelievable. It seems to me as when the American Beamon jumped almost nine meters into the 1968 Olympics in Mexico. It was like any other planet, "Kukal marveles at Nadal's clay virtuosity.
.