Lenovo ThinkPad X1 Fold folding screen laptop
KOMPAS.com – After being introduced last January, Lenovo finally officially launched the ThinkPad X1 Fold, which is a laptop with a foldable screen or better known as folding laptop.
Lenovo ThinkPad X1 Fold claimed to be a laptop as well as a PC with technology folding screen first in the world.
Regarding specifications, the ThinkPad X1 Fold carries a 13.3-inch OLED touch screen with a resolution of 2,048 x 1,536 pixels and aspect ratio 4: 3 when presented.
Also read: Lenovo shows off its ThinkPad X1 Fold folding screen laptop
The ThinkPad X1 Fold screen has a DCI-P3 color space coverage of 95 percent and a brightness level (brightness) hingga 300 nits.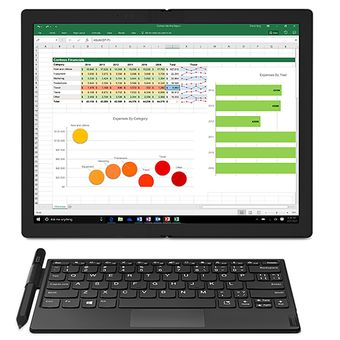 Lenovo ThinkPad X1 Fold
Like a folding screen cellphone in general, when stretched out, this laptop looks like a tablet device with a larger size.
This laptop also has two kickstand or feet that can be used to fully extend the screen.
Thus, this device can also be enforced like a desktop computer all-in-one with a smaller size.
Also read: Lenovo ThinkBook Plus dual screen laptop officially enters Indonesia, this is the price
When the screen is bent, the ThinkPad X1 Fold can function like a laptop with keyboard virtual screen that appears on the fold of the screen on the bottom side, as shown in the following image.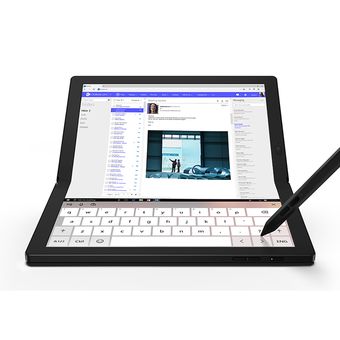 Lenovo ThinkPad X1 Fold
Collected KompasTekno from The Verge, Wednesday (30/09/2020), the Lenovo ThinkPad X1 Fold is equipped with the Windows 10 operating system and supports 5G connectivity.
The Lenovo ThinkPad X1 Fold is powered by an Intel Core i5-L16G7 processor (5 CPU cores, 5 threads) with speed clock reaching 1.4 GHz (base) and 3.0 GHz (boost), combined with 8 GB RAM (LPDDR4X 4,267 Mhz) and SSD up to 1 TB.
With a weight of 999 grams, this laptop has a battery capacity of 50 Wh and supports it fast charging 65 Watt.
Also read: 3 Latest Lenovo Legion Gaming Laptops Enter Indonesia
The Lenovo ThinkPad X1 Fold also comes with keyboard external device that can be placed on the screen of the device when the device is folded.
Users can also change the shape of the ThinkPad X1 Fold from the original one that resembles a tablet, to a mini laptop.
Other features brought by the Lenovo ThinkPad X1 Fold include on-board Wi-Fi 6, two USB Type-C ports, one SIM card slot, and the Lenovo Mod Pen digital pen accessory.
Lenovo has already opened pre-order The ThinkPad X1 Fold on its website starts from US $ 2,499 or around Rp.37.2 million. This device is called will be sent to the customer within a few weeks after order.
.