>> L1: with Shaqiri, Lyon is betting on the appetite for victory
>> Ligue 1: the clock is ticking for Kylian Mbappé's future
Angers and Jimmy Cabot, scored by Jean-Kévin Duverne, were held in check by Brest in Brittany on September 12.
Photo: AFP / VNA / CVN
Angers in slow motion, Nice efficient
The SCO remains the dolphin of Paris SG: Angers was a little roughed up in Brest but it preserved its invincibility and its good momentum during this 5e daytime.
While Romain Faivre opened the scoring from the penalty spot (62e), the Angevins equalized thanks to Thomas Mangani on another penalty (78e) – strongly contested by the Brest coach Michel Der Zakarian who was excluded for protest.
This result keeps the SCO (11 pts) in the wake of PSG, impeccable leader (15 pts), just ahead of Marseille (3e, 10 pts, one game less), which Gérald Baticle's team will challenge in ten days.
In fourth place, we find the OGCN with 9 points, taking into account a penalty point withdrawn on the green carpet this week after the Nice-Marseille incidents.
The Aiglons turned their backs on Nantes before striking on two counter-attacks concluded by Kasper Dolberg (75e) then Amine Gouiri (80e) on an assist from rookie Andy Delort. This is the third consecutive victory for the Gym, while waiting for its match to be replayed against OM.
Lyon climbs and Rennes tumbles before Europe
Already winner of Nantes (1-0) just before the international break, Lyon (7e) followed Sunday, September 12 against Strasbourg, with again a goal from Moussa Dembélé, promoted captain. A good omen before facing Glasgow Rangers in the Europa League next Thursday, then PSG next Sunday, September 19 in L1.
The center-forward showed the way for a high-class sequence (8e), son 4e goal in this Ligue 1, tied for the top scorers with Kylian Mbappé and Amine Gouiri.
"We are in full swing, the season is finally launched ", he savored at the microphone of Amazon Prime Video.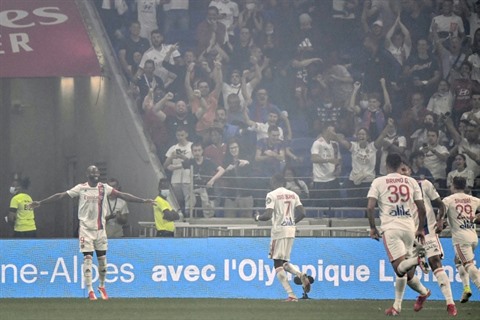 Lyon striker Moussa Dembélé (# 9) celebrates his goal against Strasbourg in Décines-Charpieu on September 12.
Photo: AFP / VNA / CVN
Then Lyon hit the nail on the head with Jason Denayer's header on a cross from rookie Xherdan Shaqiri (64e), just after the entry into play of another recruit, the German international defender Jérôme Boateng, three days after his heavy conviction in Germany for violence against his ex-companion.
Finally Lucas Paqueta increased the score with class (87e), before a reduction in score signed Habib Diallo from the penalty spot (90e+7) at the end of the match marked by fear for Dimitri Liénard, victim on the lawn of an apparently minor discomfort.
Rennes, for its part, does not approach its entry into the continental competition in the best conditions. The Bretons, who will receive the ogre Tottenham on Thursday, September 16 for their debut in the Europa League Conference, have previously fallen at home against Reims (2-0) and are stagnant in their stomachs.
"I am very, very disappointed, I am ashamed of the limit", fulminated the Rennes technician Bruno Genesio."I didn't think we could go that low. "
Germain settles down, Montpellier takes over
Express adaptation for Valère Germain! Arrived in Montpellier at the very end of the transfer window, the former Marseillais scored (62e) against Saint-Étienne (2-0) to replace the MHSC in the first part of the table, with the help of Stephy Mavididi (32e).
"It's pretty positive for a first game. Finding an audience, rediscovering the emotion of a goalscorer in front of the audience, it's wonderful ", savored Germain, who had not played since March.
Lens pushes Bordeaux, dead last
Clearly, the Girondins are going through a difficult start to the season: a new 3-2 defeat on Sunday at home in front of Lens (5e) rushed Vladimir Petkovic's team to last place, devastated by a late penalty from Florian Sotoca (90e+6).
"There is a lot of worry and concern", Petkovic acknowledged.
And since the old red lantern Troyes went to surprise Metz at Saint-Symphorien (2-0), here are the Bordelais stuck in the last place before a duel of old battered glories against Saint-Étienne (19e) next weekend…
.