The comedian pleaded not guilty to a serious breach of the Arms Act, stating that he acted in good faith. Now the verdict is clear.
Kristian Valen (48) is sentenced for breaching the Weapons Act, but receives a much lower sentence than the prosecution asked for.
– The court has essentially based its judgment on Kristian Valen's explanation, says his defender Bernt Heiberg.
Actor asked for a year in prison for the comedian, while his defender asked for acquittal. The court reached 120 days conditional imprisonmentconditional imprisonmentThose sentenced to unconditional imprisonment must serve the sentence in prison. If you are sentenced to a suspended prison sentence, you will not have to serve time in prison, but you must follow some rules..
Valen has always denied criminal guilt.
Valen is convicted of illegal possession of one weapon, a fully automatic rifle of the AR-15 type. The weapon was one of a larger collection Valen had, many of which were toy weapons, air weapons or props.
– Nor was it possible to fire this weapon in the condition it was in. It was missing a final piece, says Heiberg.
He says that he and Valen will therefore consider whether there is something that makes them appeal the case.
Retained samurai sword, convicted of baton
Valen is also convicted of having two batons, which the court will find is prohibited without a "reasonable reason".
– We do not necessarily agree that a baton used in a costume does not have a worthy purpose. It appears somewhat strange when at the same time you have returned a samurai sword to Valen because you came to the conclusion that it has a worthy purpose, says Heiberg.
In addition, Valen is sentenced for keeping 499 tablets of Rivotril, which is actually an epilepsy medicine, but can also be used as an intoxicant. The court believes that Valen was probably not aware that he had the tablets in his basement.
The prosecutor in the case says he has not had the opportunity to read the judgment yet and is therefore only "noting that the judgment has come".
The seas: This is the difference between conditional and unconditional imprisonment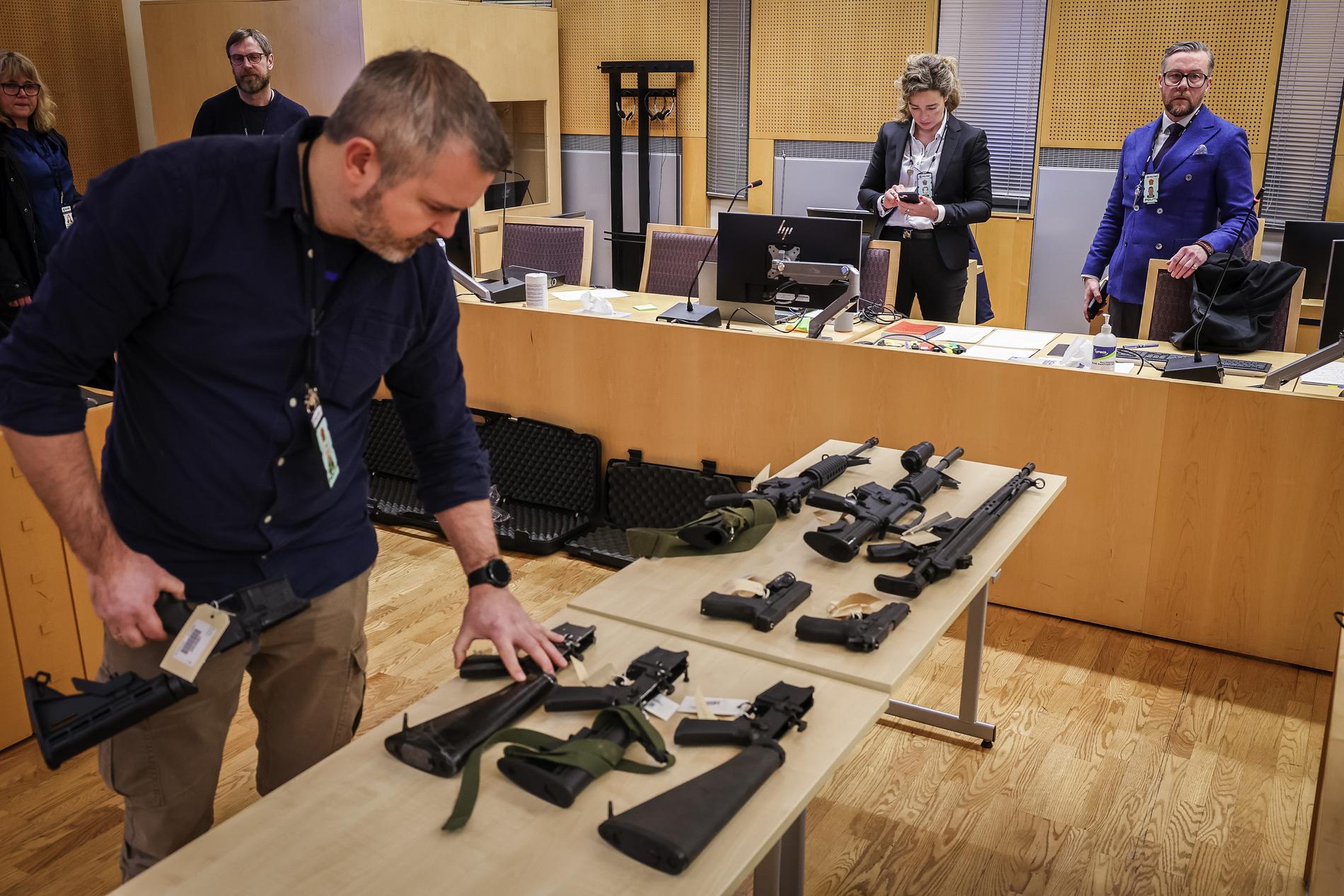 In 2020, the police found five firearms and six weapon parts at Valen's address which they believe were not deactivated correctly according to the regulations. In total, the police demand the confiscation of over 40 weapons and weapon-like objects.
Valen has stated in his explanation that it is the police and reputable arms dealers who have carried out the sealing of the weapons he has used as props through his production company.
– The fact that it turns out that the gunsmiths did not destroy the weapons according to Kripo's standard cannot be blamed on Valen, defender Bernt Heiberg said in court.
Also read: Kristian Valen after the trial: – Glad it's over
Have weapons confiscated
Valen will have five firearms and two batons confiscated, according to the verdict. He is sentenced only for the possession of one of the five weapons.
The prosecutor had requested that Valen should also be deprived of a total of 17 deactivated weapons, 1 imitation weapon, 19 assault weapons, 17 airsoft weapons, 1 air weapon, 3 teaching weapons and 1 toy gun.'
These other weapons were not forbidden to have and the court has concluded that Valen may keep them because the judges have concluded that there is no "danger that the items will be used in a criminal act".
– Dangerous construction kit
Co-prosecutor Patricia Skaldebø-Rød said during the trial that they did not doubt that Valen used the weapons as props – but that possession of weapons affects the protection of society, and the question is whether possession can be harmful to society.
The prosecutor described the police seizure from 2020 as a "Lego set" – and said several of the weapon parts are compatible and can be converted into a military weapon of war.
– These are not harmless props, but a dangerous construction kit.
The prosecution noted that there is no indication that Valen himself intended to do this, but pointed out that the weapons were found in a storeroom – and that storerooms can be exposed to burglary based on experience.
Defender Heiberg disagreed with this, and stated that parts of the seizure had also been kept in a gun cabinet.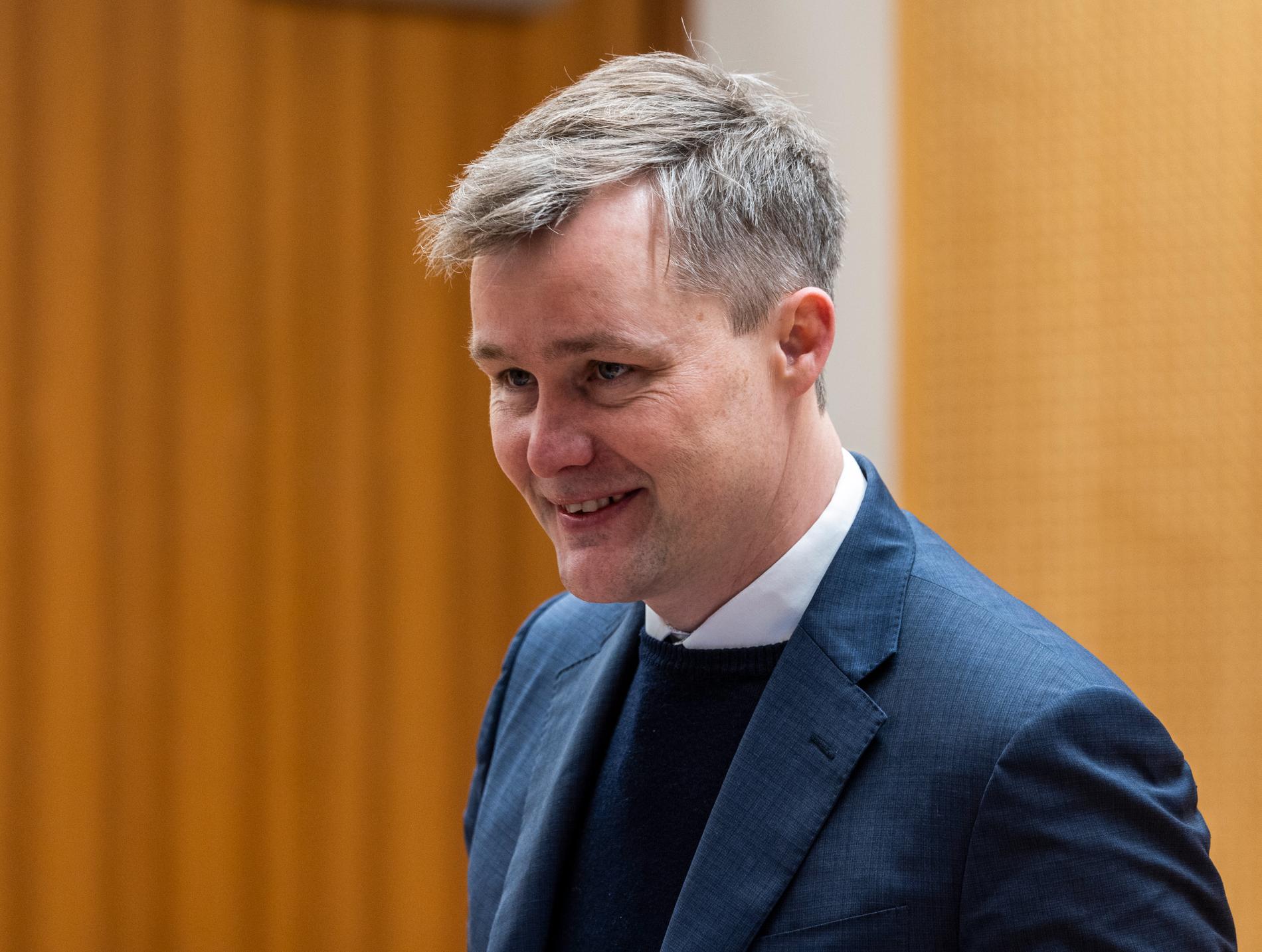 I think Valen cannot be blamed
In the trial, police officer Øivind Strand testified in Kripos – which examines a large number of deactivated firearms every year.
According to the regulations, firearms must be rendered "permanently unusable" for it to be legal to store – the weapon must therefore never be used as a firearm again.
Defense attorney Heiberg has stated that all the weapons in the case were acquired and sealed before 2009.
– You have to be able to trust that the gunsmiths did the job, said Heiberg.
Police officer Strand said on Wednesday that the regulations in relation to what is required for a weapon to be permanently unusable have previously been "messy" and "unclear".
It is rare for them to bring in weapons that have been deactivated properly according to the new firearms law, he said.
Defense attorney Bernt Heiberg has stated in court that three of the weapons for which Valen is charged were in the police seizure in connection with a shooting incident at Valen's home in 2007. He has questioned why Valen has had the weapon handed over again if the police thought they had not been properly deactivated.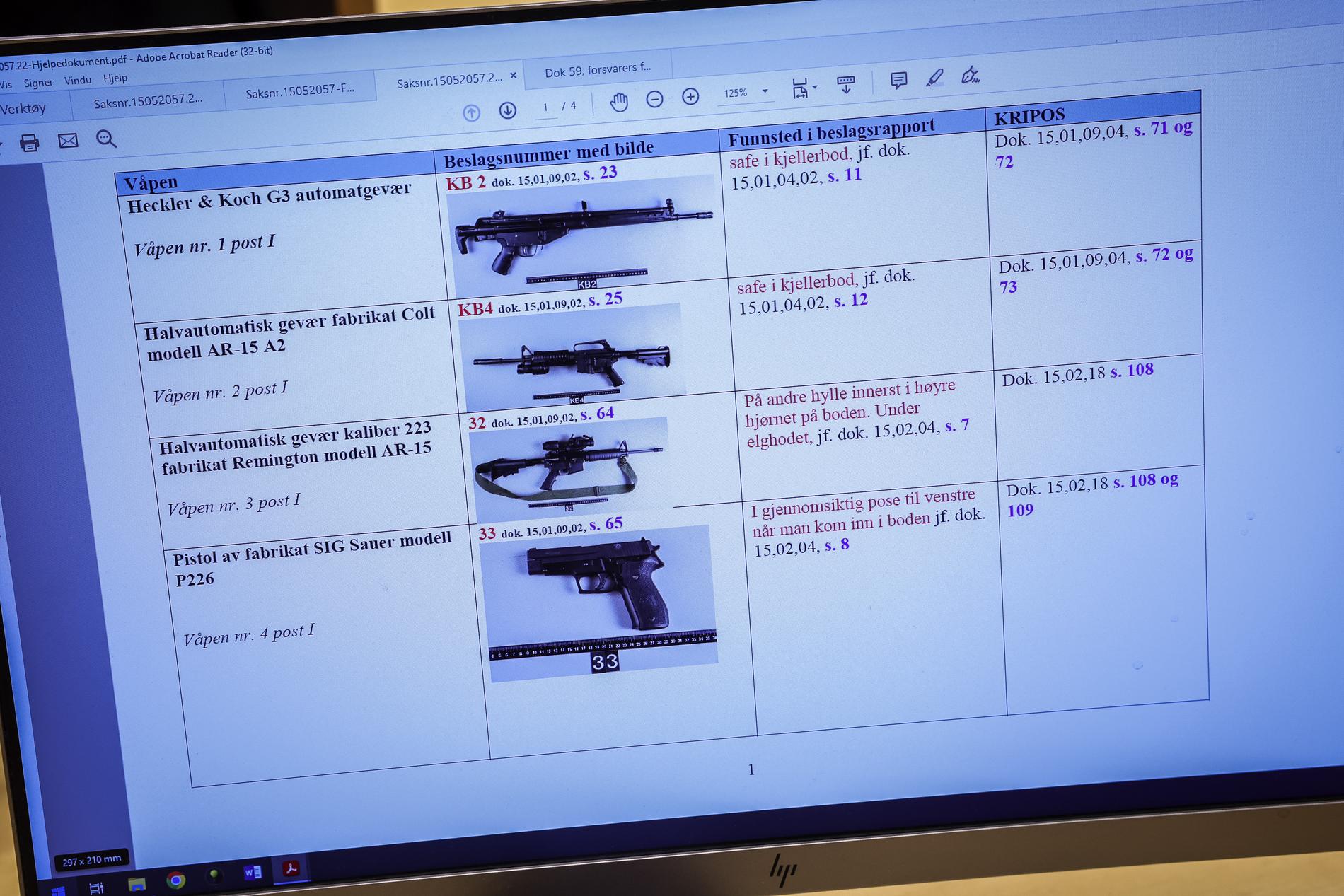 Defender Heiberg believed that Valen cannot be held responsible for the weapons that have not been deactivated in accordance with the regulations.
The prosecutor believed that Valen has a greater responsibility to know the regulations when he has a professional business where weapons and weapon items are used – and that he has acted grossly negligently.
– He has no control over what he has and does not have.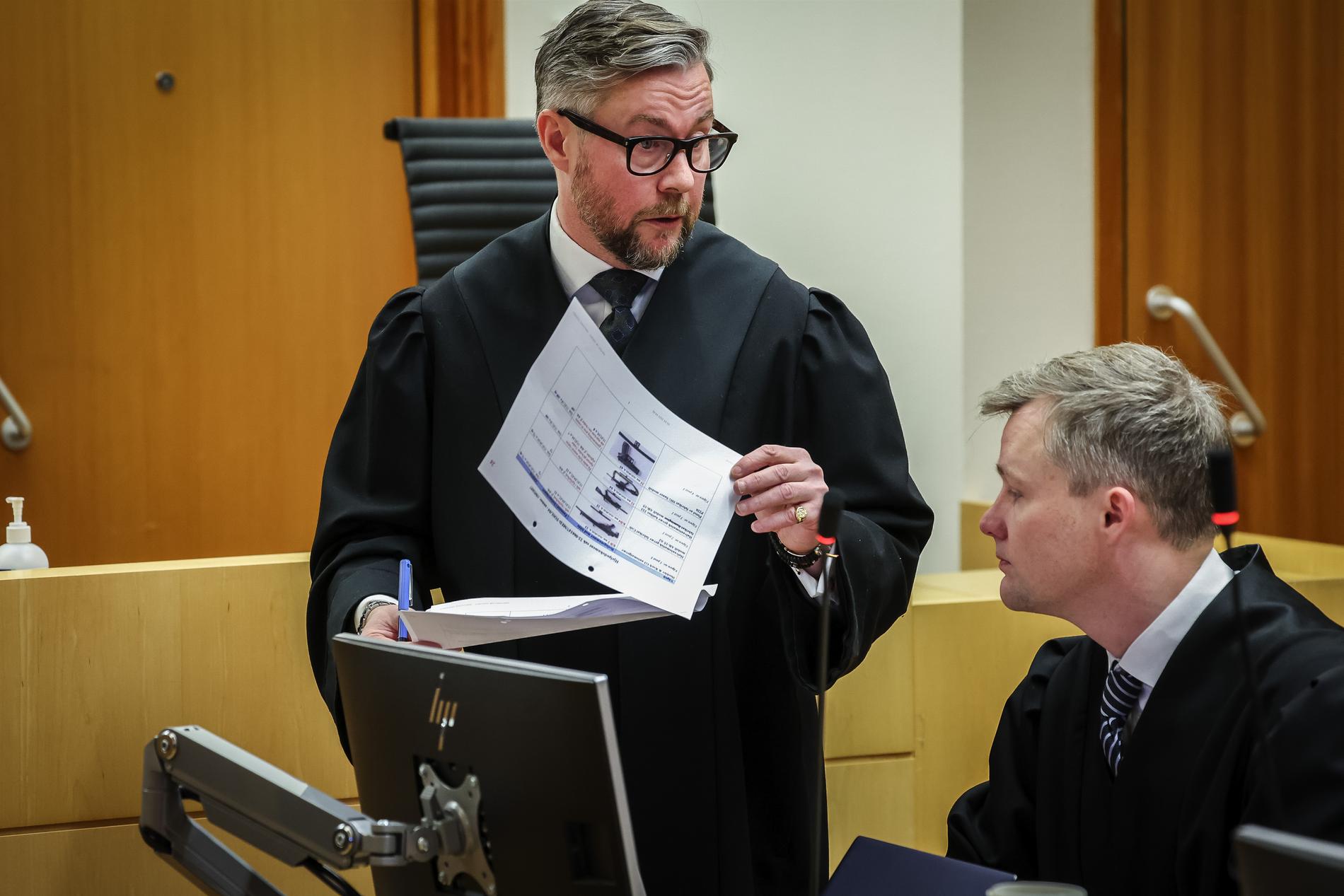 Showed skits in court
He has collected the weapons as an interest, but also used them as film props through his production company.
– Since 2007, Valen has had a focus on the use of props and weapons in its operations. They are present in skits, on stage shows, and in TV series. Valen has after it been media attention in 2007, after he fired a shot in his apartment, was sarcastic on his own behalf, and focused on "weapon-Valen" as a character, defender Heiberg said in court.
On the screens in court, among other things, a skit Valen made in connection with the award ceremony Gullfisken on TV 2 was shown. Valen said TV 2 suggested making a skit in which he took issue with the media's image of "Våpen-Valen".
Prosecutors said they take all cases involving weapons seriously.
– Valen says these are film props?
– That does not make it more legal, said prosecutor Meeg-Bentzen on Monday.