AMD's consumer and server processors have pioneered the introduction of support for PCI Express 4.0, but Intel platforms in this sense were among the laggards. With the release of motherboards based on the Intel Z490 chipset, the situation changed, since for many of them support for PCI Express 4.0 was laid at the infrastructure level. ASUS products in this regard excelled in the worst sense.
Of course, no one imposed obligations on motherboard manufacturers to implement support for PCI Express 4.0 at the circuitry level. Formally, support for PCI Express 4.0 can bring only Intel Rocket Lake-S processors in the performance of LGA 1200, which are not yet presented. Processors Comet Lake-S in a similar design support PCI Express 4.0 is not required, it is not declared by Intel. By the time of the announcement of Rocket Lake-S, motherboard manufacturers could release new models or revisions of their products that would support PCI Express 4.0.
A study conducted by participants in one Taiwanese forum, shows that most Intel Z490-based motherboard manufacturers have already implemented the bulk of the infrastructure that supports PCI Express 4.0 for their existing products. By and large, this requires five elements: compatible PCI Express and M.2 slots, compatible reference frequency generators, compatible switches and signal repeaters. The simultaneous presence of all five elements is optional, but gives a full guarantee of compatibility with PCI Express 4.0.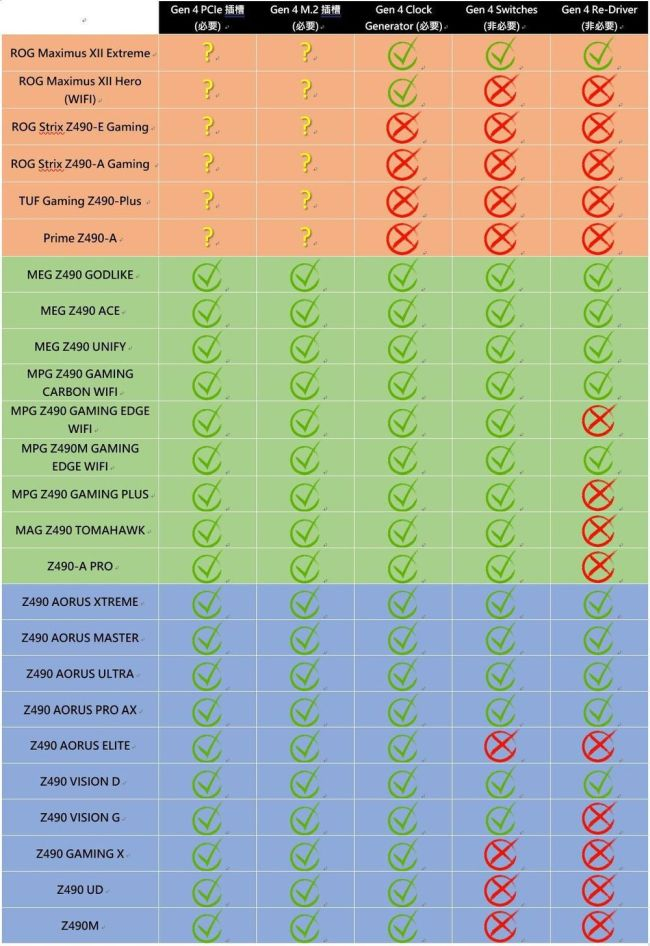 A close examination of the circuitry of Gigabyte, MSI, and ASRock motherboards allowed the authors of the study to understand that the popular models based on the Intel Z490 of the first two brands provide from three to five elements necessary to support PCI Express 4.0. All three companies openly mention in the description of the corresponding motherboards that they will be ready to accept processors with support for PCI Express 4.0.
Asustek Computer stands apart. She doesn't declare anything like that, but at the same time on her boards you can rarely find the elements used to support PCI Express 4.0 at the circuitry level. Here, only the ROG Maximus XII Extreme board differs for the better. The ROG Maximus XII Hero model is satisfied only with the presence of a reference frequency generator compatible with PCI Express 4.0, so the ability to work in this mode for all components installed in it is not guaranteed.
If you notice an error, select it with the mouse and press CTRL + ENTER.