Shazam has long been the most popular music recognition and discovery app for users. If you ever come across a cool song playing in your surroundings and can't recognize it, you can use the app to instantly find out the song title and artist. But do you know that you can use Shazam on your iPhone and iPad without downloading the app? Yeah, you got it right! You don't need to download this iOS music discovery app to identify songs playing in the background. Read on to learn how to use Shazam the easiest way on your iPhone.
Use Shazam without downloading the app on iPhone (2022)
Requirements to Add Shazam Icon to Control Center
After acquiring Shazam in 2018, Apple introduced Shazam-powered system-level song recognition to iPhone and iPad with the release of iOS 14.2/iPadOS 14.2 last year. So make sure your device is running iOS 14.2 or later to be compatible with the native music recognition feature powered by Shazam.
To change, you can add Shazam icon to control center on your iPhone or iPad to recognize all songs right from the control center, even from the lock screen. If you prefer to use Siri, you can also use the voice assistant to identify songs. Apple's voice assistant also takes advantage of Shazam's music discovery directory for instant song recognition.
Add Shazam Icon to Control Center on iPhone and iPad
1. To begin, open the Settings app on your iPhone or iPad. Now scroll down and tap on "Control center".
2. Under the "More controls", find the music recognition control and press the "+" button next to add it to the control center.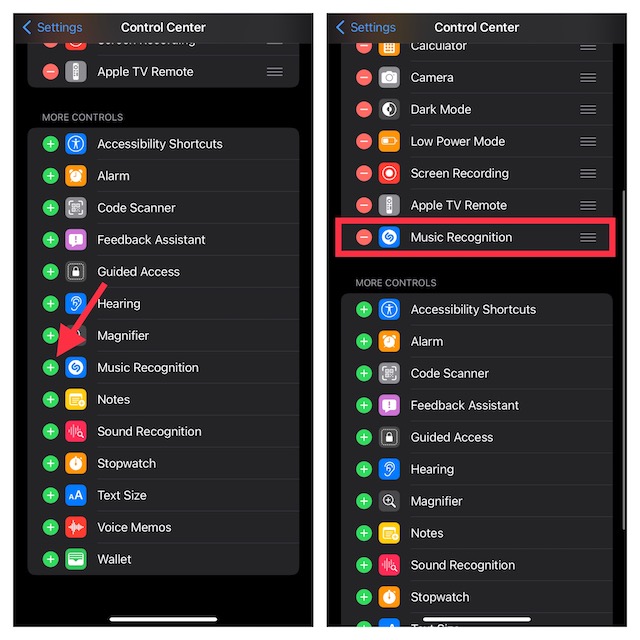 3. Now the music recognition option should appear in the "Included controls" section. Depending on your needs, you can rearrange the order in which commands appear in the Control Center. To do this, touch and hold the three horizontal lines right next to the music recognition option and drag it to the desired location.
4. Now swipe down from the top right on iPhones with Face ID or swipe up from the bottom on iPhones with Touch ID to open Control Center. You'll see the Shazam icon here, as shown below:
Use Shazam Music Recognition Tool to Identify Songs on iPhone
Once you add Shazam's music recognition icon to Control Center, identifying songs is a snap. Follow the steps below to learn how it works:
1. First, open Control Center on your device using the supported gesture.
On iPhone and iPad without home button: Swipe down from the top right corner of the screen to access the Control Center.
On iPhone and iPad with a home button: Swipe up from the bottom of the screen to show the Control Center.
2. Now press the Shazam icon. You will see the icon animate, and the text "Shazam Music Recognition: Enabled" appears at the top of the Control Center.
3. If a song is playing around you, Shazam will immediately recognize it and inform you of the name of the song with the name of the artist.
Your device will instantly recognize the song and display its name at the top. Tapping on this notification will take you to Apple Music, where you can listen to the song. Pretty cool, isn't it?
Although Shazam is designed to work seamlessly with Apple Music, you can also link Shazam to Spotify if you're not a fan of Apple's music streaming service. After connecting Shazam to your Spotify account, the music discovery app will show you Spotify links every time you use it to recognize a song.
Identify Songs Using Siri on iPhone and iPad
Powered by Shazam, Siri is also good at identifying songs. So if you ever hear a song playing, summon Siri and say, "What is this song?". The voice assistant will immediately identify the song and display its name at the top of the screen. If you want to get the most out of Siri, go to this article to find 50 Cool Siri Tricks.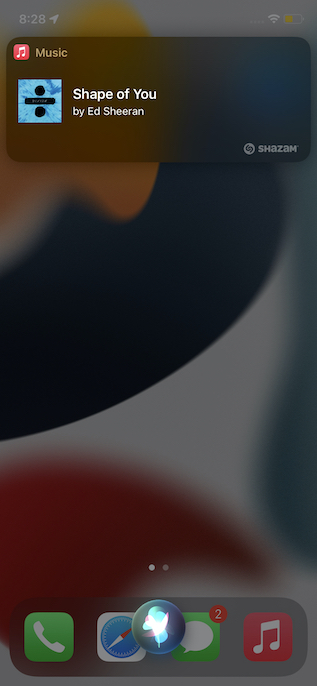 View Songs You Identified Using Shazam on iPhone
You can quickly view the history of all the songs you've identified using Shazam right from your device's control center. This is how it works:
1. First, go to Control Center on your iPhone or iPad.
2. Ensuite, long press the Shazam icon to view the full history of songs you have identified using the service on your device.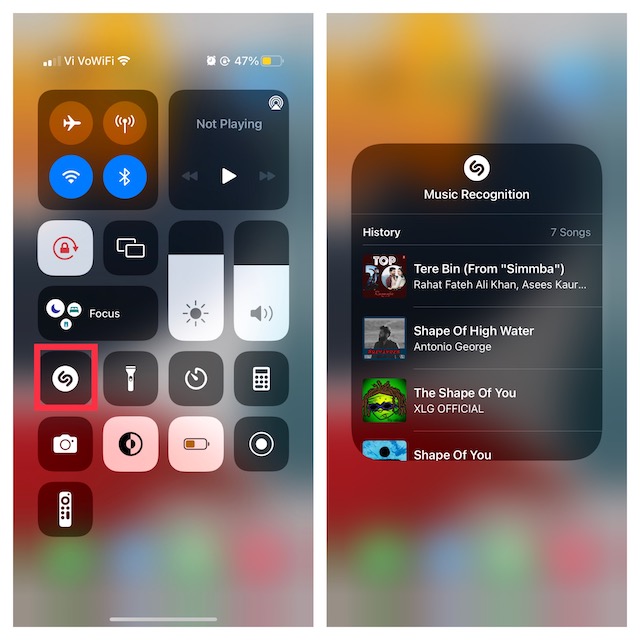 Get the most out of Shazam without downloading the app
So, that concludes this guide on how to use Shazam without downloading the app on your iPhone and iPad. From what we've experienced, Shazam's music recognition tool works like a charm. Making the most of system-wide integration, the music discovery tool is quite intuitive and seamless. What do you think of Shazam's music discovery tool? Don't forget to share your feedback and be sure to check out Shazam's super handy Chrome extension if you want to unleash its full potential. Just in case you're not happy with Shazam, head over to our roundup of the best mobile and web apps for identifying songs.