Where do you get the motivation to play at the age of 45?
A lot of people laugh at me because of that, but I still enjoy hockey. If I didn't have the competitiveness and taste in me anymore, I would be done. But I still feel it and I prolong my youth with hockey. I'm in a group of guys, some of whom are even younger than my daughter, which is pretty funny. As long as I'm still able to show something on the ice, I'd like to keep playing.
Can you recognize the moment when it will be better to finish?
I believe I am judicial. I've never had a problem with that, I'm not a fool. When I'm definitely there, I'll stop.
For the last few years, you have lived with your family in Florida, where you cared for a sick wife. Why did you decide to return to the Czech Republic?
We were there for ten years in a row and the decision just somehow matured. Only the older daughter remains in Florida, who is finishing college this year. I don't really want to talk about my lady's problem, but the care in the Czech Republic is different. In addition, other people will help me here. My wife and I are Czechs, we have families here. It's different from David Krejčí, whose wife is American. I can't even imagine how difficult it must be for her to move from Boston to Olomouc.
Jan Hlaváč in a Kladno jersey.
You have tried the second league in the recent past for Vrchlabí and Nova Paka, why have you now nodded to the Letňans, who obtained a license for the third highest competition from Trutnov?
I live in Prague, I also know everyone in Letňany, because I went there to play for veterans during the last crazy covid year. Letňany was interested in the second league last year, but covid stopped everything. Now we met Divoch (general manager of the club and former hockey player Tomáš Divíšek) again and agreed immediately.
Were any of your teammates when you first entered the cabin that had been forged for you?
In the beginning, a few of them were really found. On the one hand, I'm not surprised, because I'm slowly twenty-five years older. But I immediately told them that not like this, that we were all in the locker room.
Do you see in them that they want to learn from you in training? That when he sees the way you approach the exercises, he won't allow himself to be cheated?
That's exactly how it is. If a twenty-year-old boy gets away with it while Hlaváč goes there at full speed, then there is a mistake somewhere. But I must praise them. We have trained a lot during the summer, maybe four times a week, and they have my great admiration that after a day in their work, they still work on the ice like this. I like the way they wear. I try too, and I show them a lot of things and they take me.
Was it difficult to keep fit last year when the last season of the second league ended very quickly due to coronavirus?
It wasn't easy just not lying on the couch at home and not eating. I tried to run, but that's a problem because of my sore hip, which starts to come on right away. I rode a lot of bikes, in the winter on an exercise bike and of course skating. I have an outdoor gym where I did push-ups, squats … I'm old school, I can't do what I'm young at my age.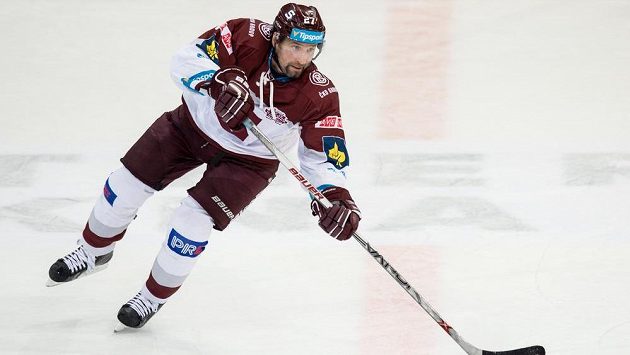 Jan Hlaváč experienced his last extra-league title in 2007 with Sparta.
Vlastimil Vacek, Right
How do you get up in the morning after the match?
Like a forty-five-year-old man. My legs hurt, but during the day I start slowly and in the evening it's better. But I wouldn't give my morning workouts anymore. Like the day after the match, I need time off to regenerate. We have agreed on this with coach Jarda Nedvěd, there is no problem with that.
What are the ambitions of Letňany?
What I heard, so prospectively; for example within two or three years; would like a floor up. Now the core of the team is being put together and we will see what it will look like in a few years when I will no longer be there.
And your goal?
Mainly for the whole season to take place. But I'm so horrified that I don't believe in anything anymore. I am afraid of what will come again after the elections to the House. I think we have to learn to live with the virus, or we'll all go crazy.
I know you're finishing your coaching B license. Are you tempted to change coach?
I would like to train. I've been playing hockey for over twenty years, I can't do anything else, that's how it's offered. I think I would enjoy it. I realize that a good hockey player is not the same as a good coach, but I am convinced that I can draw on my rich experience. Even now, I sometimes find myself thinking during the match what I would do differently as a coach. Who to swap in the lineup if the game does not download to three lines. But in Letňany I will only be a player for now.
.