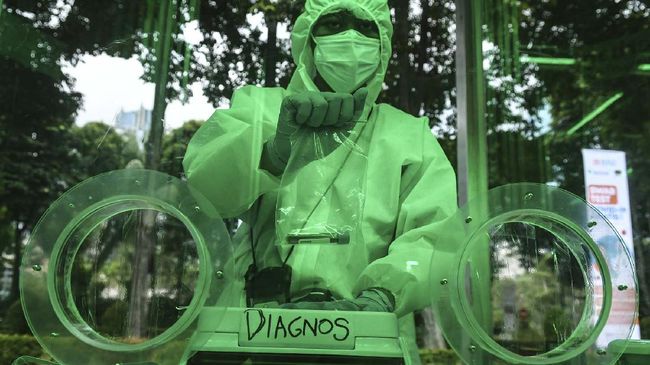 Jakarta, CNN Indonesia –
DKI Jakarta Molecular Diagnostics Laboratory researcher, Ungke Antonjaya suggested the government implement the method pool test or combining several specimens in one test to increase examination capacity corona virus (Covid-19).
"Pool test indeed it is currently needed to increase capacity (testing), "Ungke said in a virtual discussion 'Inequality Covid-19 Test in Indonesia: From Jakarta to Papua', Saturday (1/8).
Ungke said pool test also conducted to cope with the capacity of Covid-19 examination laboratories that are already full in a number of areas.
According to him, there are a number of things that must be prepared to implement pool test. For example, the laboratory must validate the number of samples ready for use. Then use the GeneXpert test tool, which can combine five samples in one test.
"But surely validation is needed first, how many samples will be combined in one test," he said.
Ungke calls the method pool test it should be applied in the area to track contacts in market clusters and offices. The effectiveness of the pool test can be seen if positivity rate Indonesia's Co-19 is below 7 percent.
"For example, for contact tracing or screening in the market or at the office, maybe it can," he said.
Photo: CNN Indonesia / Fajrian
INFOGRAPHY TO NOT INFECT VIRUS CORONA
Ungke revealed the pool test had been used in detecting HIV and hepatitis. Whereas in Indonesia, a laboratory in West Sumatra already has experience using the pool test method.
Previously, the Director of BNPB's Disaster Management Strategy Development, Agus Wibowo admitted that not all regions had tested the corona virus (Covid-19) as recommended by the World Health Organization (WHO).
"Not all regions in Indonesia have met WHO recommendations that one test per thousand (population) per week," Agus said in a virtual discussion 'Inequality Covid-19 Tests in Indonesia: From Jakarta to Papua', Saturday (1/8).
Agus said that only eight provinces had fulfilled WHO's recommendations. The eight regions, namely West Sumatra, DKI Jakarta, DI Yogyakarta, Bali, South Kalimantan, East Kalimantan, Gorontalo and Papua.
However, said Agus, a number of regions have begun to realize the importance of increasing the Covid-19 test. For example, such as Central Java, West Java and East Java, which have begun to increase test capacity.
Until today, Saturday (1/8), cumulatively, the government has only been able to examine 1,517,381 specimens from a total of 875,894 people. Of these 109,936 people tested positive for the corona virus.
(from)