Budapest
–
Cristiano Ronaldo just equalized the record for most goals at the national team level Ali Daei. Let's get to know this Iranian football legend.
Two goals against France at the end of the group stage fase Euro 2020 at the Puskas Arena, Budapest, Thursday (24/6/2021) early in the morning WIB, Cristiano Ronaldo collected 109 goals for Portugal.
Ronaldo was able to equal the owner of the world record for the most goals at the national team level belonging to Ali Daei. In fact, Ronaldo can still add to his goals alias become a new record holder.
Cristiano Ronaldo hits 109 goals at national level (AP/Laszlo Balogh)
Who is Ali Daei?
Reported detikSport from various sources, Ali Daei is a football legend from Iran. Now, he is 52 years old.
Ali Daei started his career in 1995, when he played for an Iranian club, Bank Tejarat. Next, Ali traveled to Qatar to join Qatar Al-Sadd SC.
His career was flashy when Ali played at Bundesliga. The player in the center forward position strengthened Arminia Bielefeld in 1997.
Furthermore, Ali was brought in Bayern Munich and finally strengthen Hertha Berlin. Then, returned to strengthen several clubs in Iran and retired in 2007.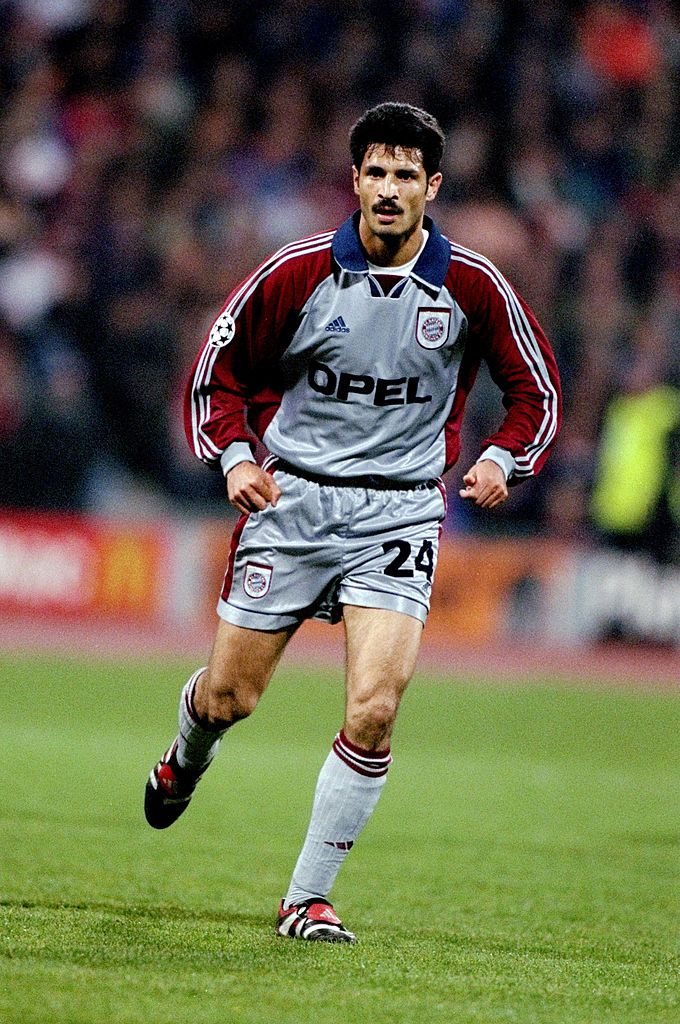 Ali Daei in uniform for Bayern Munich (Getty Images/Stu Forster)
While in the German League, Ali Daei tasted the Bundesliga title and the German League Cup with Bayern Munich in the 1998/1999 season. From 107 appearances in the Bundesliga, he scored 19 goals and assisted six.
Ali has also won the Iranian League title with Persepolis FC and Saipa FC. At club level, Ali's goals are actually not very many.
But it's different, if Ali is in uniform Iranian National Team. From 149 matches, he scored 109 goals.
Ali has strengthened the Iranian national team since 1992. He has twice won the title of top scorer in the 1994 World Cup Qualification in the Asian Zone with 4 goals and in the same event with 9 goals in 2006.
Ali Daei in uniform with the Iranian national team Photo: (Getty Images/Stu Forster)
After retiring, Ali Daei continued his career as a coach. He has trained eight clubs with three championship titles, plus has coached the Iranian national team in 2008-2009.
Ali Daei also gave praise to Cristiano Ronaldo who had just equalized his goal record at the national team level. Ali expressed his admiration.
"Congratulations to Cristiano who is now one goal away from breaking the international goals record," wrote Ali Daei.
"I am honored that this incredible achievement will belong to Ronaldo, an extraordinary champion in football and a caring humanist who inspires and impacts lives around the world. Vamos!"
Cristiano Ronaldo reply to the message. Ronaldo looked down on him.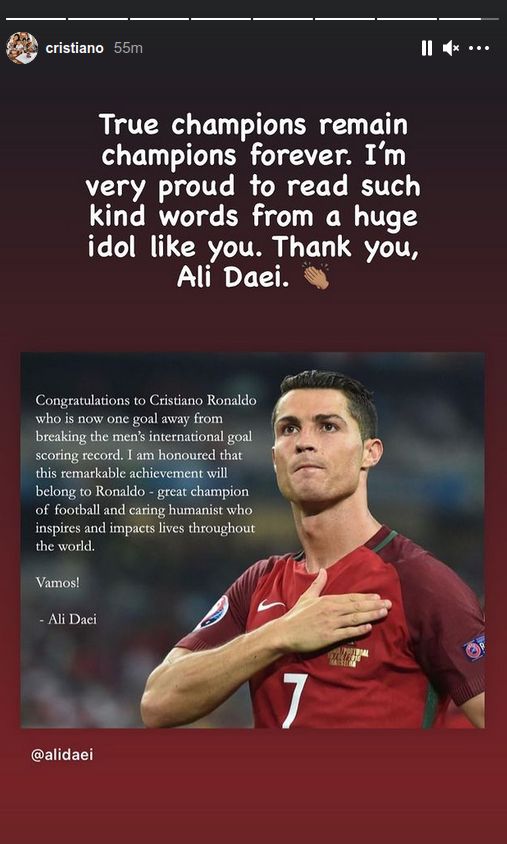 (Instagram)
Cristiano Ronaldo is still a mainstay Portugal of Euro 2020. Ronaldo has so far collected 5 goals in Euro 2020 and have the opportunity to add to it. Ronaldo himself is only one goal away from winning the title of the player with the most goals at the national team level.
In the round of 16 Euro 2020, Portugal will face Belgium on Monday (28/6) at 02.00 am WIB at La Cartuja Stadium, Seville, Spain. An opportunity for CR7 to set a personal record, as well as take his country further in European Cup This year.
Check out other interesting information and news at Euro 2020/2021 at the following link this.
(aff / krs)
.