"The situation is serious", with these few words the head of government of Mecklenburg-Western Pomerania, Manuela Schwesig, outlined the pandemic situation before the Prime Minister's Conference (MPK). On Tuesday the federal and state governments agreed in principle on stricter corona rules, now the 16 prime ministers as well as the outgoing Chancellor Angela Merkel and her designated successor Olaf Scholz want to adopt the measures. The goal of reducing the increasing number of infections in order to break the fourth corona wave in Germany. Before the deliberations, several heads of government, including Schwesig, pushed for nationwide regulations. The Prime Minister of Rhineland-Palatinate, Malu Dreyer, said the pandemic hit all of Germany hard. "That is why it is important, in an act of national solidarity, to work together to ensure that the number of infections drops and that our entire health system is relieved."
2G almost everywhere
There is broad agreement on an expansion of the 2G rule in retail. Only those who have been vaccinated and those who have recovered would then have access to the shops. Exceptions are provided for shops with daily needs such as supermarkets, drug stores and pharmacies.
The German trade association fears that a 2G regulation will result in sales losses of up to 50 percent for the companies concerned. "After the already exhausting lockdowns of the past few months, many cannot cope with that," said managing director Stefan Genth of the Funke media group.
In the future, only those who have been vaccinated and those who have recovered should be allowed access to cultural and leisure facilities. A current negative corona test (2G-Plus) is also being discussed. A general mask requirement should apply again in schools.
For regions with a high incidence, the closure of clubs and discos is becoming apparent, because the risk of infection is considered to be particularly high there. Restaurants will remain open for the time being, but the possibility of regional closings is under discussion here as well.
There should no longer be full football stadiums like the one recently played in the Cologne-Mönchengladbach match
The permissible number of participants at major events should be severely limited. This is especially true for soccer games.
Massive contact restrictions for unvaccinated people
Unvaccinated people should meet as few people as possible so as not to infect anyone. It is possible, for example, that only a maximum of five unvaccinated people from two households are allowed to meet or that meetings in which unvaccinated people take part are generally limited to one's own household and two people from another household.
In addition, the federal and state governments want to accelerate the number of vaccinations against the corona virus. By Christmas 30 million first, second and booster vaccinations are to be carried out. For this, more professional groups than before should be authorized to vaccinate, especially pharmacists and dentists.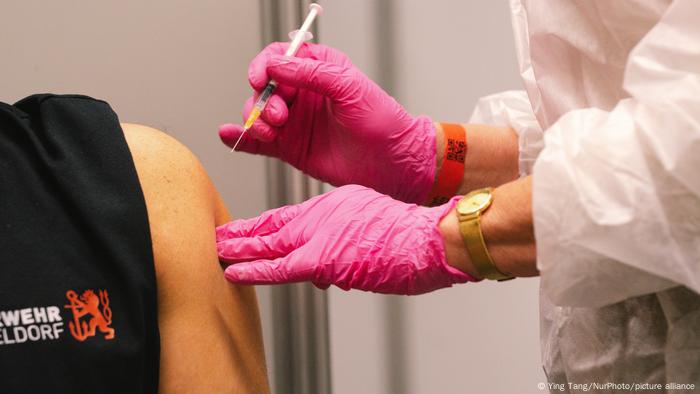 A vaccination center in Düsseldorf
In order to protect the elderly and the sick from infection, employees in clinics and nursing homes should be required to have a corona vaccination. Such a regulation could come relatively quickly. The federal and state governments are aiming for a general vaccination requirement for February or March. However, it is still controversial.
Health authorities can no longer forward all data
The Robert Koch Institute (RKI) reported 73,209 new infections this Thursday. That is 2752 cases less than a week ago. The seven-day incidence decreased slightly for the third day in a row and is now 439.2. 388 other people died from the virus.
However, since the health authorities in Germany are completely overloaded, the figures should not reflect current events. The chairman of the Federal Association of Doctors in the Public Health Service, Ute Teichert, warned that the overburdened health authorities had in some cases not only stopped tracking contact persons of infected people, but could no longer cope with the daily entry of the number of cases.
se / as (dpa, afp, rtr, epd, ard)
.