The Russian Il-20 crossed international airspace and was heading for the island of Rügen.
Russian IL – 20 Kut-A was intercepted by QRA over the Baltic Sea / Wikimedia
In the sky above by the Baltic Sea Two German Eurofighters intercepted a Russian Il-20 reconnaissance aircraft.
This is reported by the representation of German forces in NATO. on Twitter.
A Russian Il-20 Kut-A (reconnaissance aircraft) was intercepted by our Rapid Response Service (QRA) over the Baltic Sea over the weekend, with two Eurofighters taking off from Laaga.
It is also noted that the service works daily to "protect the airspace over Germany and NATO."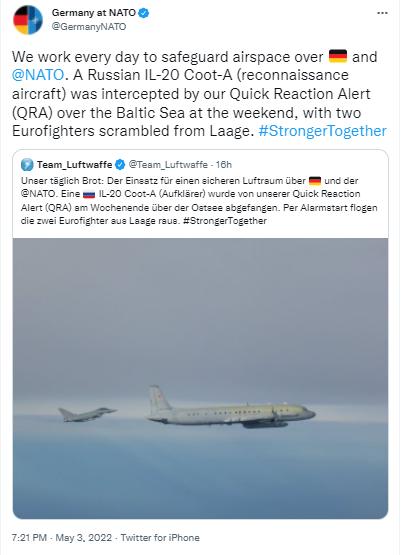 Alerted Eurofighter fighters forced the uninvited "guest" to change course, escorting the reconnaissance aircraft outside the air borders of Germany.
Formerly Russian reconnaissance aircraft AN-30 violated the air borders of Denmark and Sweden. The ministries of foreign affairs of the countries summoned the Russian ambassadors to Copenhagen and Stockholm.
You may also be interested in the news: