In the second half of March, roughly from the announcement and release of processors Rocket Lake (Core 11000 for desktop) Intel cared about being heard. News about something new came practically daily. We didn't focus on one, but it's so important that it's worth returning to it. In addition, it does not concern the near future, so it will not detract from the topicality. Moreover, it is impossible to imagine a better time to address this issue than just after the resurrection celebrations…
Return Tick-Tock
Intel formally abandoned the tick-tock strategy five years ago, in the spring of 2016. Really much earlier, before the middle of 2014 with the release of the generation Haswell-refresh (Devil's Canyon). As far as possible: the tick-tock strategy was to define the process of preparing and releasing new generations of processors. One generation (tick) was to take over the architecture of the past and transfer it to a new production process. The second generation (tock) was to introduce a new architecture in this production process.
The editorial staff of the Anandtech website (I don't know if it took over from Intel at its own discretion or information) claims that Intel used this strategy in the 1990s, 00s and 10s. The reality, however, is that the tick-tock strategy was officially introduced and deployed in 2007. The theory of its use was already being grafted into Intel's real roadmap in the 1990s, for example. English-language variant of Wikipedia, but it turned out to be quite a cat. We learn that the tick was 65nm P6 in 1995 and the tock was 65nm in 2006 Merom (Core). The ticking over a decade indicates that something is not sitting here. Upon closer examination, we will find that 65nm P6 was Yonah and it wasn't released until 2006, so trying to see the tick-tock model in Intel's 1990s strategy turns out to be quite a phantasmagoria.
Brian Krzanich, Intel's CEO, who "derailed" from the tick-tock strategy, albeit a little because of the skeletons of the previous CEO
The tick-tock strategy officially began in 2007 and, if we follow its definition, ended in release Haswell-refresh 2014, which was the third generation built on a 22nm process (which the tick-tock principle does not allow). Only two years later did Intel announce the PAO (Process-Architecture-Optimization) strategy, where it made room for one (half) generation in the same extra process (so-called refresh). The PAO strategy was based on Ivy Bridge 2012 (22nm), Haswell 2013 (22nm) a Haswell-refresh 2014 (22nm). Rated from this perspective, the tick-tock ended as early as 2011 Sandy Bridge – then it was actually driven according to the PAO, although it was announced five years later.
Paradoxically, at the time of the announcement of PAO (2016), Intel already knew that it would not be able to adhere to this strategy for another year: Broadwell 2014 (Process), Skylake 2015 (Architecture), Kaby lake 2017 (Optimization). After Kaby Lake, which was nothing Skylake-refresh, but after it came other reflections of Skylake architecture on the 14nm process: Coffee Lake, Coffee Lake-refresh, Comet Lake, now occurs even in partial Comet Lake-refresh (this wave of products was a kind of PAOOOO).
From this situation, Pat Gelsinger wants to sharpen the reintroduction of the tick-tock strategy, ie by alternating new architectures with new processes. We do not yet know how Intel wants to achieve a new process ready for every second wave of products capable of being deployed in series production. Whether he manages to return development to the old tracks, or reduce intergenerational leaps, or "plus" in the names of processes (such as 14nm, 14nm +, 14nm ++, 14nm +++) will be considered as new processes.
Unrivaled performance processors
With a tick-tock strategy, Gelsinger plans to bring Intel to a completely unmatched performance performance in 2023-2024 (literally "undoubted leadership in CPU performance"). We now have the year 2021, in 2022 Intel's competition – AMD – is expected to be released Zen 4so in 2023 it could happen on Zen 4+ and in 2024 on Zen 5. If Intel expects to strengthen its competitiveness at this time, its solution will have to be a bigger leap than Zen 5. Bude-li Zen 5 manufactured still on the 5nm process, it will give Intel a certain opportunity.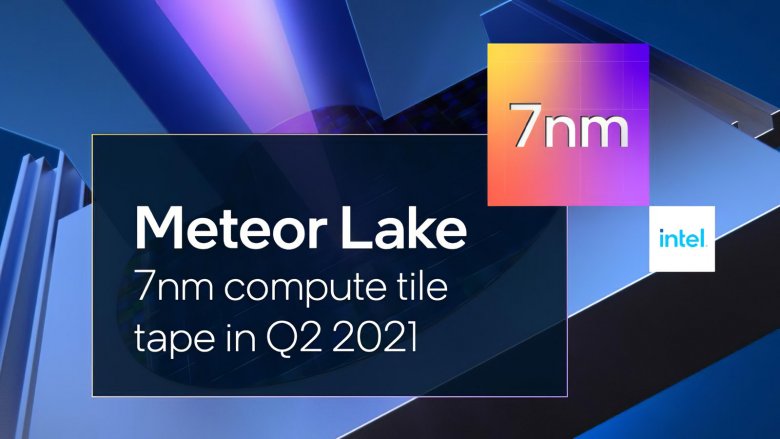 What will be the miracle product? This year, Intel will release 10nm Alder Lake, in 2022 is to be followed by 10nm Alder Lake-refresh were not Raptor Lake. For 2023, Intel is preparing – as Gelsinger has already confirmed – Meteor Lake.
It will be 7nm, but at the same time with the new architecture (Redwood Cove) and after that, ie in 2024, 7nm will arrive Lunar Lake with hitherto unknown architecture. The renewal of the tick-tock strategy is not yet visible in this (a new 7nm process and a new architecture are to come at once), but we come to the names of products that should be the happy ones, more than competitive ones – unrivaled.