Compared to private electric cars, electric trucks are something special for now. However, few doubt that the future belongs to such vehicles. That's why companies, institutions and organizations that care about sustainability are thinking about how to make it a reality.
A recent study by consulting and market research firm BlueWeave Consulting found that the global truck market reached 20.3 billion euros last year. According to forecasts, this segment will grow by almost 15 percent annually in the near future and will reach 50 billion euros by 2028.
We are very interested in such machines from both public authorities and private companies.

Ralph Schaefer, CEO of the Austrian company Wiegele Trucks, representing the Swedish manufacturer Scania
Earlier this year, Wiegele Trucks delivered one Scania 25 P electric truck to the Austrian energy company Conversio, which can travel up to 250 kilometers on a single charge. The machine now transports photovoltaic modules and components between Conversio bases in Vienna, Burgenland and Styria.
We offer environmentally friendly energy solutions, so an electric truck fits perfectly into our concept. This can be seen as further proof of our move towards sustainability.

Johannes Hofer, head of Conversio
He also reveals an unexpected effect of buying a Scania 25 P. When the company announced the vacancy for an electric truck driver, a large number of candidates applied for the job. And it happened at a time when all European companies were complaining about the lack of drivers.
The leading supermarket chain is moving to sustainable transport
Despite rapid development, an electric truck still cannot compete with alternatives to a diesel engine in terms of distance per charge. True, they have many other important advantages: they are quiet, do not pollute the environment and are much cheaper to operate. As a result, such vehicles are already playing an increasingly important role in urban logistics.
For example, Italy's leading supermarket chain Lidl Italia recently launched its first fully electric truck, and now supplies zero-emission Scania Battery-Electric from its logistics center in Arkola to stores in its network throughout northeastern Italy. This is a turning point in the development of Lidl Italia. The company is one of Italy's pioneers in the transition to a sustainable fleet and is the result of a forward-looking partnership between Scania's Italian subsidiary Italscania and LC3 Transporti.
The new electric Scania 25 L can cover approximately 250 kilometers on a single charge. It has a three-axle chassis and an electric motor with 230 kW or 313 hp continuous power and 295 kW or 401 hp maximum.
Our long-term goal is to decarbonise transport, and the purchase of this fully electric truck is an important step in that direction.

Luka Ross, Director of Logistics at Lidl Italia
Ambitious goals
The Danish capital, Copenhagen, has set an ambitious goal of becoming climate-neutral by 2025. The municipality is committed to replacing all diesel-powered waste trucks in the city with electric ones. Most of them will be Scania 25 L. Citizens will benefit from this.
By 2025, we will have around 100 electric trucks dumped in Copenhagen. There will be less particulate matter in the air because the electric truck does not emit any emissions at all. Noise from waste trucks will also be significantly reduced.

Per Fisher, head of the Amager Resource Center
The biggest breakthrough – in Western Europe
In Western Europe, we are seeing a breakthrough in the field of electric trucks for a number of reasons. One of them is that cities have set stricter requirements for the pollution of traditional cars and restricted or banned them from entering old towns and densely populated areas. This not only ensures zero CO2 emissions and thus improves the environmental situation, but also reduces noise.

Aigars Pušinskis, Retail Director, Scania Baltics
For example, haulage and waste disposal companies have no choice but to use quiet and environmentally friendly machinery in accordance with these requirements. After all, people are very happy that the goods are delivered at night, but the waste is collected quietly by environmentally friendly transport. There are no such requirements in Latvia yet, but when there are, transport companies will seriously consider purchasing an electric truck for work in the city.
These machines have lower operating costs, but the initial investment is significantly higher. Therefore, countries in Western Europe have put in place various support mechanisms to make them easier to buy and pay for themselves. This applies not only to the purchase of vehicles themselves, but also to investment in public infrastructure.

Aigars Pušinskis, Retail Director, Scania Baltics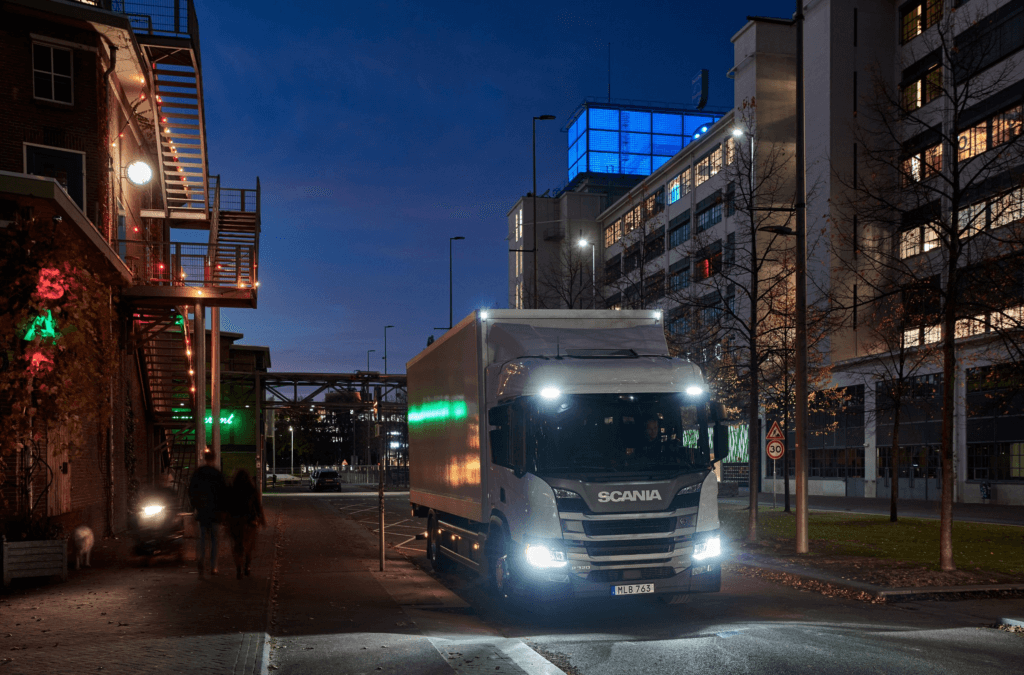 It is not particularly difficult for car companies to set up charging stations at their bases, but from city routes lorries often do not return to the base until the end of the shift. For example, Vilnius garbage trucks leave the base very early in the morning, work all day and go unloading several times during the shift. They do not enter the base during this time. Adequate infrastructure in the city or at unloading points is required for the driver to be able to charge the batteries for the next work trip, at least during his break.
Starting from the second quarter of this year, we also offer a truck electric truck to Latvian customers and are already working on the first projects and calculations. Currently, the technical capabilities allow to provide transport for the delivery of goods and waste collection in the city.

Aigars Pušinskis, Retail Director, Scania Baltics
There is no longer any doubt about the technologies of the future
Although Scania is working in a number of directions in the field of sustainable transport, the company believes that electrification will be the key technology in the long run. In addition, it is already clear that interest in heavy-duty electric cars will only increase. Scania estimates that electric vehicles will account for around 10 percent of all truck sales in Europe in 2025, and that figure will rise to 50 percent by 2030. The manufacturer's commitment to add at least one electric model to its range of trucks and buses each year will also help to achieve this.
Confidence in electric propulsion is also evidenced by a joint project to build a charging network for long-distance trucks and buses, which will bring together the three largest European truck manufacturers, including the Traton Group, which manages Scania. In total, the project is expected to invest € 500 million and is the largest investment in electric freight charging infrastructure in Europe. In total, it is planned to establish and maintain at least 1,700 high-efficiency public charging stations that will use green energy.