Message from 05/17/2022
In the next few days, the important Apollo clock by David Roentgen and Peter Kinzing from 1789, the showpiece of the Roentgen Museum in Neuwied, will be transported to Dresden. It will be on display there from June 3 to September 25, 2022 in the exhibition "The Key to Life. 500 Years of Mechanical Figure Automata" in the Lipsiusbau in Dresden.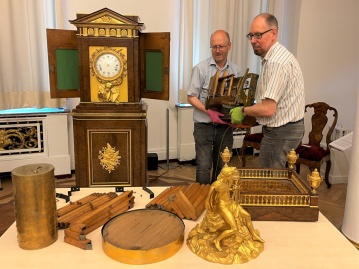 Neuwied. It is an exhibition of the Dresden State Art Collections, in particular the Mathematical-Physical Salon in the Dresden Zwinger in cooperation with the Museum of Saxon Folk Art. The Apollo clock was made in 1789: the case in the Roentgen factory and the inner workings by the clockmaker Peter Kinzing in collaboration with the organ builder Johann Wilhelm Weil in Neuwied.
Since only the case of the Apollo clock is delivered to Dresden by an art transport company, the clock, striking and musical mechanisms had to be removed. The watchmaker and watch restorer Ian D. Fowler could be won as a specialist for this, who then expanded the inner workings of the Apollo clock together with museum director Bernd Willscheid.
After the trip to New York to the Metropolitan Museum of Art in 2012, this is now the second trip that the precious exhibit is making. In Dresden, the clock will then inspire a large audience along with numerous other mechanical figure and music machines. (PM)
---
Local: Neuwied & surroundings
Become a fan of the NR-Kurier.de local edition Neuwied on Facebook now!