Šwiateková is one of the next generation to win grand slam titles in recent years. The current Japanese star Naomi Osaka won the US Open last year at the age of twenty, which inspired Polka. Last year, another 20-year-old player, Canadian Bianca Andreescu, celebrated surprisingly in New York.
"I'm another outsider who won a grand slam in women's singles. That's crazy," Swiatek said shortly after the match, adding later at a press conference: "I'm proud of myself. I've had an incredible two weeks behind me."
Polka Iga Šwiateková in the final of the French Open.
Michel Euler, ČTK / AP
She finished what no Polka or Agnieszka Radwaňská could do before her, whom everyone called the future grand slam champion. It was Šwiateková who became her. "I'm writing history. This experience will change my life," said Swiatek, appreciating Radwanska. "She did a lot, she was at the peak for maybe twelve years. People will compare us and I still have a lot to show to match her."
She expects to become a closely watched star in Poland. "I'll have to get used to it, but it won't be a problem. I don't mind the attention," said the Warsaw native and the winner of the 2018 Wimbledon junior, who didn't win a single WTA title before the Roland Garros title. He has seven from the lower ITF series.
The Roland Garros final was played in front of an almost empty auditorium in the central courtyard, as only a thousand people were allowed to enter the complex due to anti-coronavirus measures. "The tournament was different. I don't know how I would behave in front of a full stadium. Perhaps I will try the atmosphere at another grand slam soon," wished the player, who also took part in an exhibition in Prague during the coronavirus break.
Business card of Polish tennis player Iga Šwiateková (19), winner of the French Open:
Date and place of birth: 31 May 2001, Warsaw
Nationality: Polish
Height: 176 cm
Biggest achievements: French Open 2020 winner; winner of the junior women's singles at Wimbledon 2018; gold doubles at the 2018 Youth Olympics
Current position on the WTA rankings: 54th place (in the new edition 17th)
Others: a fan of the whole court style of the game with excellent service and a varied range of strokes; she started tennis at the age of five, following the example of her older sister Agata, her father was a rowing representative; she has been a professional since 2016, her current maximum on the WTA circuit was the final participation in Lugano last April, after which she moved up to the elite hundreds of rankings; in grand slams she reached the farthest final (in Paris last year and in Melbourne this year); she has been coached by Piotr Sierzputowski since 2016; she has so far earned around three million dollars in rewards.
She managed the tournament, in which she also eliminated last year's finalist Markéta Vondroušová and the Romanian favorite Simona Halepová, mentally well. It draws on a two-year collaboration with sports psychologist Daria Abramowicz. "Before the finals, she told me to stick to the basics and daily routines. Not to think about the result, but to show my tennis. I played ball after ball, which is the basis," Polka said.
Among other things, she thanked her father Tomasz for his success. The former rower started at the 1988 Seoul Olympics. "He did a lot for me and his sister, and it's hard to describe the feelings I'm experiencing. I prefer to talk about him in Polish," she said.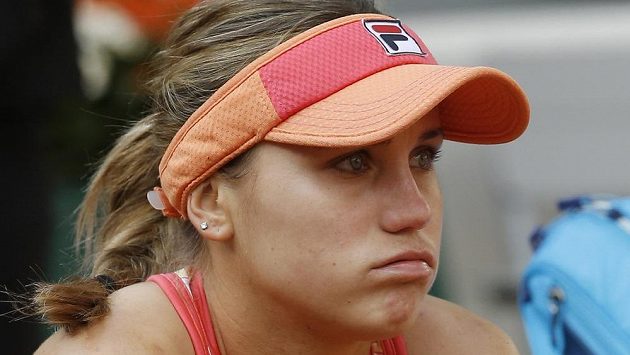 Disappointed Sofia Kenin from the USA after the final of the Paris singles.
Michel Euler, ČTK / AP
Šwiateková's plan for the future is to work on her game to play evenly. "I know my game isn't perfect yet," she said. She would like to repeat similar performances as those from Paris regularly. "Imbalance is a problem of women's tennis. That's why we don't have winners like Rafa, Roger and Novak," she named longtime men's tennis ruler Spaniard Nadal, Swiss Federer and Serb Djokovic.
.