In Saxon Switzerland, extreme rainfall, sometimes more than 100 liters per square meter, led to flooding within 24 hours. The district office announced that individual locations were no longer accessible. Neustadt, Sebnitz, Bad Schandau, Reinhardtsdorf-Schöna and Gohrisch are particularly affected. People were asked to avoid cellars, underground garages and underpasses. In addition, flooded roads and paths could pose great dangers. "Heavy floods are to be expected," warned experts.
The rise in water levels on several rivers is comparable and in some cases even stronger than in August 2010. At that time, numerous inner cities, villages and fields were under water for miles, rails and roads were washed away, houses were destroyed and businesses were flooded.
The Bavarian district of Berchtesgadener Land has declared a disaster due to flooding. There are a lot of mudslides, streets are flooded, the fire brigade is overloaded. "The situation is confusing," said a spokesman for the emergency services. It is still raining heavily. The places Berchtesgaden and Bischofswiesen are particularly affected. Individual houses have already been cleared. The population is called to leave basements and avoid the streets, as a lot of water gushes over them.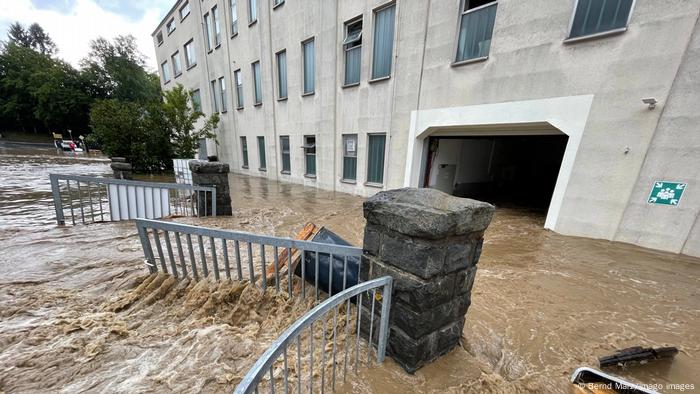 Land under in the Bavarian municipality of Selbitz
After torrential rains, parts of downtown Hallein near Salzburg were flooded in Austria. A stream developed into a raging stream in the evening, the police confirmed according to videos that could be seen on the Internet. "The situation is very tense, sometimes dramatic," said a police spokesman. People who were locked in their homes were rescued with the help of boats or trucks. However, there is currently no evidence of injuries. The population had already been called on to be careful and not to go to the cellars.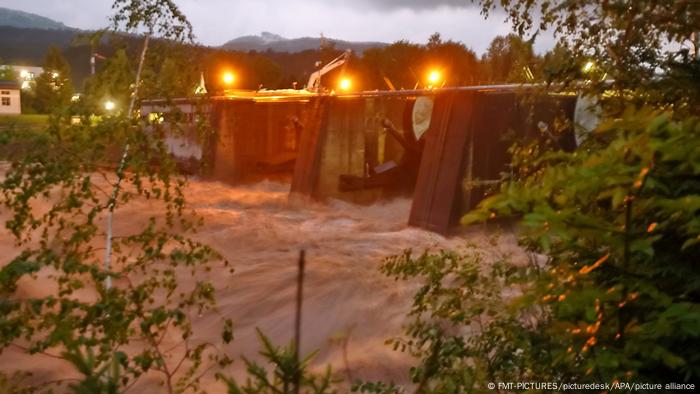 Masses of water rush towards Hallein
The situation is also tense in other parts of the Austrian Alps. The fire brigade had to pump out numerous cellars around Kitzbühel. In Mittersill in Pinzgau and in Kufstein in Tyrol a civil protection alarm was called. In Kufstein, people are asked not to leave buildings and to retreat to higher floors. In the urban area, the water from the tributaries of the Inn has already reached the streets. Because of possible landslides, part of the Felbertauernstrasse, the connection between Salzburg and East Tyrol, was closed.
There is a heavy rain warning for the state of Salzburg until noon on Sunday. In individual regions, up to 120 liters per square meter are expected.
qu/fw (dpa, rtr, ORF)
.