Citadele's subsidiary CBL Asset Management published the results of the study In 2021, the interest of households in non-deposit savings, which means investments in accumulative life insurance, pension level 3, funds and shares. Now Latvia plans to list the largest state-owned companies on the stock exchange. Will it inspire more confidence in the population and will they buy more shares? Hard to say.
Finday.lv is a business news newsletter received by nearly 1,000 subscribers each week. Along with the compilation of the most important business news from Latvia, the Baltic States and the world, a compilation about a business sector is also sent. Given the topicality of this issue, Finday.lv In our newsletter, we decided to take a look at how Latvian companies currently listed on the stock exchange are doing in business.
In the coming years, several companies wholly or partially owned by the state and municipalities
the necessary financing for development could be attracted in the capital market
, offering their shares or bonds on the stock exchange. Local governments could also get involved in the capital market, and Riga could be the first to launch a bond issue on the stock exchange, according to the informational report of the Ministry of Finance. The Latvian Public Media Portal has perfectly summarized the current situation regarding the potential participation of state and local government companies in the stock exchange.
Information
is available
on the portal here.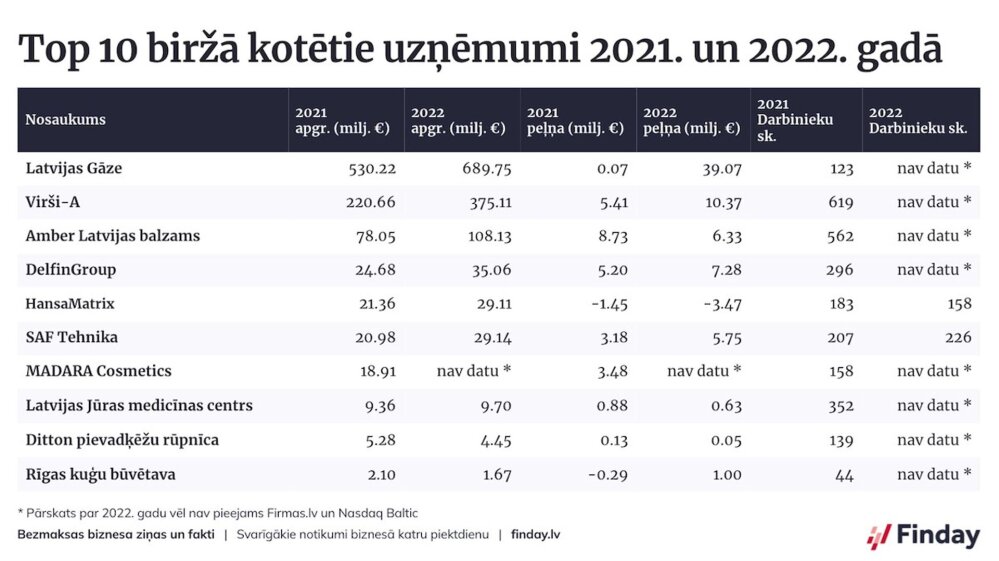 In recent years, Latvian private companies are increasingly considering and also announcing the listing of shares on the stock exchange.
Nasdaq Homepage
all companies listed on the stock exchanges of the Baltic countries can be found. It must be mentioned as the best example
Madara Cosmetics
. Its shares cost 31.2 euros at their peak in 2021. So investors valued the company at more than 110 million. euro. When entering the stock exchange, one
Madara Cosmetics
the share was available for 6.25 euros.
Also, a trader of fuel and alternative energy sources successfully launched on the stock exchange in 2021 Viši-A
. The shares attracted record investors' interest, the demand almost twice exceeding the base offer – 13.4 million. in the amount of EUR against the basic offer, which was 6.8 million. euro.
It is interesting that you can not only enter the stock exchange, but also leave it. This was just done by a Latvian high-tech company
HansaMatrix
. In November 2022, the Latvian Competition Council made a decision to allow
BaltCap
for the company
Emsco
to buy
HansaMatrix
. Thus, Baltic private capital
fund manager BaltCap with your company Emsco mediation became the largest HansaMatrix shareholder
.
BaltCap
concluded a voluntary share buyback offer and acquired 93.1%
HansaMatrix
stock. Since
Emsco
managed to buy more than 90%
HansaMatrix
voting shares, according to the Share Buyback Law, the company has the right to buy back
HansaMatrix
shares from other shareholders without their consent.
Emsco
this legal right was also exercised.
2023-05-31 15:45:57
#Finday.lv #weekly #review #potential #state #listed #companies