Once a day, NU.nl gives you an overview of the situation in Ukraine. This time: the hard-fought Ukrainian city of Severodonetsk is getting closer and closer to the point of falling. Russian army units have seized the Ukrainian district of Hirske, which is a stone's throw from the strategic city. British Prime Minister Boris Johnson also wants to help Ukraine clear the southern coast of the country.
According to district head Oleksiy Babchenko, fighting still takes place on the outskirts of Hirske, but there is no doubt that the Russians are now in charge. The Russian Defense Ministry says on Friday it surrounded a Ukrainian force of 2,000, including 80 fighters from abroad.
The occupation comes at a sensitive time. Earlier in the day, Governor Serhiy Gaidai of the eastern Ukrainian region of Luhansk said it was pointless to hold out any longer. "It doesn't make sense to cling to positions that have been taken but that have been shot down, just to be able to stay there (Severodonetsk, ed.)."
Preserving the city was previously seen by President Volodymyr Zelensky as crucial to the future of the Donets Basin, the region partly controlled by pro-Russian separatists since 2014.
nugraph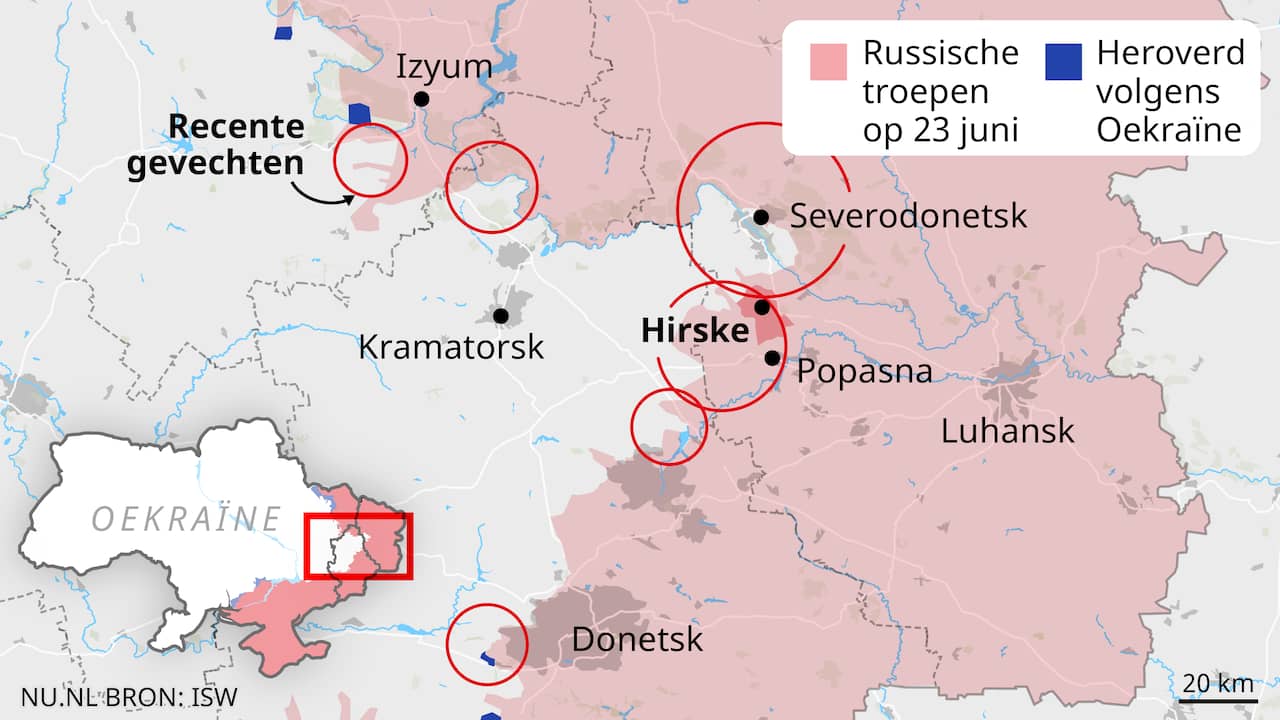 Johnson wants to help Ukraine with demining
British Prime Minister Boris Johnson wants to help Ukraine clear the country's southern coast. In addition, he is considering offering insurance to ships carrying grain from the country across the Black Sea for export.
Since the Russian invasion, Ukraine's southern ports on the Black Sea have been blocked. Virtually no grain can leave the country. As a result, 20 million tons (20 billion kilograms) of grain are now stored in Ukrainian silos and food prices are being pushed up worldwide.
With the help of the United Nations, Turkey is trying to mediate between Russia and Ukraine and to make exports from the ports on the Black Sea possible again. Moscow is blocking that and wants a number of Western sanctions against the country to be lifted first.
Russia plunges up to 50 million people into famine, US says
US Secretary of State Antony Blinken says Russia's war in Ukraine will plunge 40 to 50 million people into starvation worldwide. Blinken blamed Russia for this on Friday at a press conference with his German counterpart Annalena Baerbock.
The US secretary refutes Russian accusations that Western sanctions are the cause of the current food crisis. "There is no reason other than the Russian blockade of Ukraine and the Russian refusal to export its own grain for political reasons."
Baerbock said international partners are engaged in fighting Russia's "grain war". Her priority now is to establish reliable transport routes to get as much grain from Ukraine as possible and to combat global food insecurity.
Germany would like to send more howitzers to Ukraine
The German government wants to bolster Ukraine's artillery by sending more howitzers to the country. Sources around the German Defense Ministry have reported this. The sources report that Berlin is in consultation with the Netherlands and an "other European partner".
Germany and the Netherlands previously donated twelve armored howitzers to Ukraine. The mobile artillery guns can hit targets 40 kilometers away. Each howitzer is operated by five soldiers.
Norway announced in early June that it had sent 22 howitzers to Ukraine. The country also supplied spare parts and ammunition.
Zelensky opent Glastonbury Festival
President Zelensky has opened Britain's Glastonbury Festival. He addressed tens of thousands of visitors in a video message, which was played on a screen before the performance of The Libertines.
The president said, among other things, that the festival is one of the greatest examples of freedom. "And I ask you to share this feeling with the people whose freedom is under attack."
Zelensky also asked the festival-goers to help refugee Ukrainians. "Press all the politicians you know to help restore peace in Ukraine."