In order for coach Oren Amiel's charges not to beat Zaragoza by 20 points to take the lead in the group, they needed to succeed in Sardinia. They succeeded thanks to 21 points from Omar Prewitt, another 17 points and eight rebounds contributed by Hayden Dalton. The home team was not valid double double Ethan Happ, author of 11 points and 11 rebounds.
Nymburk started with the captain Vojtěch Hruban, who was missing in Zaragoza. Coach Amiel did not only have the quarterback Retina Obasohan, who had already started training after his illness. After problems with his ankle, however, he also saved Jerrick Harding on the bench, and Jakub Tůma made a great use of the chance in the basic line-up in the beginning.
He contributed eight points to the 10: 2 fast lead, which he helped with two threes. "I got shot, so it had to come one match. It was lucky that I had two shots at the beginning and I turned both. It kicked me quite a bit. In the end, I'm sorry we didn't give too many sixes, because if I changed them all, then the maximum could have been even greater, "said Tůma, who shifted his personal record in the competition from five to 13 points, even though he converted only two of the five free throws.
Martin Kříž from Nymburk in action under the basket against Sassari.
David Šváb, ČTK
The reduction of Dinamo was only a momentary and Nymburk already escaped in the first quarter by a difference of 13 points. Tům was joined by shooting teammates, especially Prewitt. Sassari has already lost 19 points twice. "It was good that we gained a ten-point lead from the very beginning and then we just increased it. That's exactly what we wanted when we came here," added Tůma.
The drama did not take place until the end as four weeks ago in Nymburk, where the home team won with the last shot two seconds before the end of 90:89, and Amiel's team, on the other hand, increased the difference. Dinamo, which has not yet won the group and has not been successful in the Italian league in recent weeks, also lost 28 points. The home score was corrected, but Nymburk still scored the highest victory in this year's eight-final stage. So far, it has been a 91:80 win in Bamberg.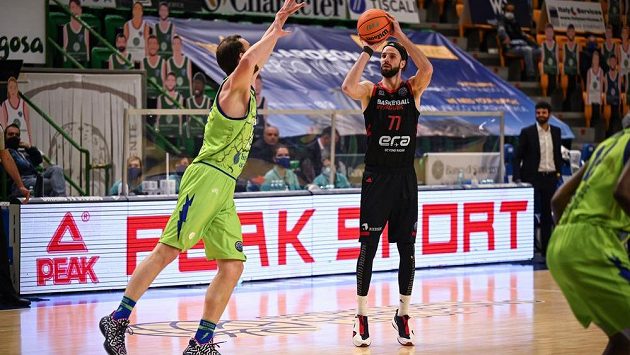 Vojtěch Hruban from Nymburk (middle) in action during the Champions League duel against Sassari.
David Šváb, ČTK
"This is exactly what we wanted, because we advanced after the last match, but the performance and the result were not good. It's nice that we were able to win and show the quality we have even with those absences," said fighter Petr Safarcik on the start.
He was glad that the fight for supremacy was open. "We set goals for all matches and now by the end of the group it is to be in first place. I hope we can do it to show our strength, that we are advancing to Final Eight from first place," added Šafarčík.
Champions League – Round of 16:
Group L – Round 6:
Dinamo Sassari – ERA Nymburk 73:91 (19:32, 36:54, 52:73)
Most points: Bendžius 15, Treier 13, Happ and Krušlin 11 – Prewitt 21, Dalton 17, Tůma 13. Fouls: 26:20. Free throws: 15/12 – 28/21. Threesomes: 9:12. Rebounds: 35:46.
| | | | | | | |
| --- | --- | --- | --- | --- | --- | --- |
| 1. | Zaragoza | 5 | 4 | 1 | 443:424 | 9 |
| 2. | Nymburk | 5 | 4 | 1 | 434:419 | 9 |
| 3. | Bamberg | 5 | 2 | 3 | 441:421 | 7 |
| 4. | Sassari | 5 | | 5 | 419:473 | 5 |
.