Posted on 1is June 2017 at 8:00 am

New York Design Week, a high mass of North American design, has just ended after igniting social networks. Zoom on four Quebec designers who were on the trip.
Larose Guyon
From a distance, the Perle luminaire by the young Montreal brand Larose Guyon, formed by designers Audrée Larose and Félix Guyon, inevitably makes one think of a precious jewel. "After our first creation" La Belle Époque "exhibited last year at the ICFF fair, we wanted to continue to explore the path of jewelry with a more refined design," explains the designer. brass, were mouth-blown at the Montreal Glass School and can be installed on their own or in a repeat set with the client.
Zoë Mowat
The Edmonton-based designer, who has been living in Montreal for nine years, participated for the second time in the Furnishing Utopia project exhibited at Design Within Reach in Soho. This project, based on a study of Shaker design in situ, brings together 14 young North American and Scandinavian talents. For this edition, Zoë Mowat imagined the "Rung Rack" folding storage system. "This hybrid system, inspired by a ladder used for picking apples found in the archives of the Hancock Shaker Village, can be used as a coat rack, mobile partition or storage for linen or magazines", summarizes the designer.
Loïc Bard
For his second participation at the WantedDesign Manhattan show (this year, in the Quebec Design collective), the Montreal cabinetmaker designer Loïc Bard has chosen to highlight the Mylène bleached maple wood desk with a burnt wood bench. "For this office, I used the code of the old school desks from my childhood village, in France, with its compartment to be lifted to access its business," he says. This piece of furniture, like the bench, has a discreet opening that allows you to hide magazines, laptops or tablets for a Zen interior.
Simon Johns
Self-taught designer Simon Johns, from Bolton-Est, chose a "post-punk" inspired collection for his second appearance at the Sight Unseen OFFSITE show created by the eponymous American online media. His Missisquoi low tables, mineral and raw, were inspired by the place where his studio is located. "I wanted to create contemporary furniture that reflects my natural environment," he explains. The stone used, a kind of shale, comes from a quarry near his home. The designer paired it with gold, chrome, blackened ash and a mirror to evoke the river.
New York Design Week
New York Design Week spanned three weeks this year, from May 3 to 24. More than 500 events have taken place from Manhattan to Brooklyn, from formal salons to avant-garde galleries and studios for young designers.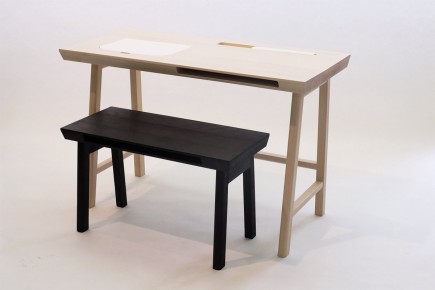 .