Wijnegem
–
The sisters of Nathalie Le Clef (34), who saw their house in Wijnegem go up in flames together with her husband Gilles De Meester (34) and their toddler son Jack, have started a crowdfunding. The son of Ludo Verbist (72) and Simonne Wils (68), who lost everything in the same fire, is also considering an action. The damage is therefore enormous.
On Sunday morning around half past four, a fire broke out in a duo house on the corner of Houtlaan and Merksemsebaan. Nathalie and her husband Gilles were called by an alert passer-by. Ludo and Simonne, who live in the adjoining house of the semi-detached house, were awakened by the burglar alarm. The damage is enormous.
The fire probably started somewhere at the back of the veranda, but was able to spread quickly through the plaster walls. Little remains of the attic floor. "You can still see our dressing there," points out Ludo Verbist through the charred truss.
ALSO READ: Homes completely lost after heavy fire in Wijnegem
Gilles and Nathalie have lived in the house for six years and had almost completed their renovation. Their son Jack will be 2 years old next week. "We are staying with my parents for the time being," says Gilles. "We have already received a lot of clothes and toys, so much that we still have to sort them. We were able to salvage our desks and laptops because they were in the basement. Nathalie and I are both musicians", says Gilles. "The Antwerp fire department was also able to save our instruments. Only our grand piano looks complete watered down from."
Nathalie and Gilles would like to thank not only the fire brigade but also the police zone Minos. "Of course it remains very sour. New floors, new bathroom: we had just renovated everything. The fact that the house has a basement completely and that we also had a lot of lying there, has been our salvation. The basement floor was flooded, but we were still able to get a lot of unburnt convenience out of it."
Nathalie's sisters have now started a crowdfunding via steunactie.nl/woningbrand. "Clothes and materials come in, but as a young couple they also put all their money into that renovation," says sister Caroline. In the meantime, Nathalie's family has also set up a crowdfunding for the affected neighbors via steunactie.nl/woningbrand. The links are on the Wijnegem Facebook pages.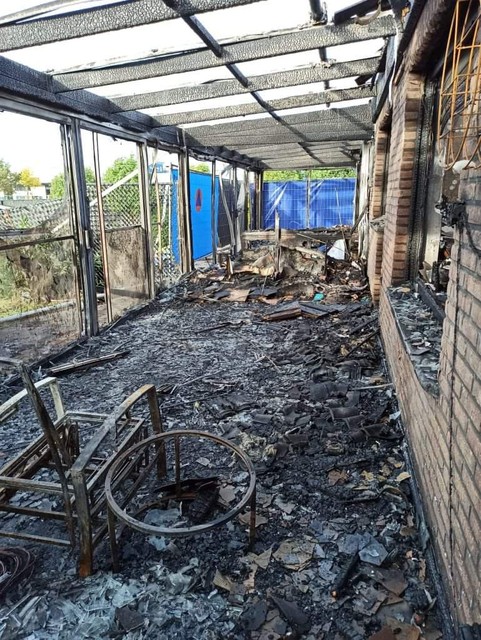 "Great, I also wanted to find out how I should do such a support campaign for my parents", responds Terry Verbist, the only son of Ludo and Simonne. "My parents have lived here for 36 years. I also see a part of my childhood going up in smoke. My bedroom was under the roof", Terry points upwards. "My parents can temporarily stay at the house of friends who are in Spain."
Ludo came to watch with his son on Tuesday. He held on strong. "Simonne and I had just celebrated our fiftieth wedding anniversary at a restaurant on Saturday night. Our grandchildren whined if they could stay with the grandma and grandpa, as they often do. But my son held back because it was already so late. We consider ourselves lucky now, because otherwise our grandchildren would have slept at the back under the roof in a room of which nothing is left now. This sight is terrible, but we try to comfort ourselves that at least we are all still alive."
Simonne and Ludo could only save their handbag and wallet. "I went to pick up my parents at the hospital on Sunday. My dad didn't even have underpants anymore, I had to bring one of mine," says Terry. "I am afraid that they will get a physical blow from this fire."