We analyze data for the second quarter in which enterprises they felt the effects of the lockdown the most. During this period, slightly over 64 thousand. companies, almost a third less than in the corresponding quarter a year ago. At the same time, 157 companies went bankrupt, i.e. by 20 percent. more than a year ago – according to GUS data.
The largest increase in bankruptcies was recorded in industry – from April to June, 40 companies in this industry closed their activities, compared to 26 a year ago.
Coronavirus surprised the government? The economist assesses the preparations for the second wave
From among the main categories distinguished by the Central Statistical Office, fewer bankruptcies year-on-year were found only among companies dealing in trade and repair of vehicles. The other sectors are: the aforementioned industry, construction, transport and storage, information and communication, and services. There were more or the same in all bankruptcies.
The number of registrations concerns business entities that have been entered into the REGON register. Thus, the statistics also include natural persons who liquidated and resumed business activity.
It is also worth mentioning that natural persons running a business accounted for 83 percent. of all registered business entities, and limited liability companies – 13 percent. When it comes to bankruptcy, limited liability companies prevailed, which accounted for 53 percent. all companies in this category.
Now let's look at the latest data for September. They include newly registered, deregistered and suspended companies. In September, 33 thousand. companies. What's comforting is that they were 19 percent. more than in August. Unfortunately, 15,000 were deregistered at the same time. companies by as much as 50 percent. more than in August.
There are still companies that have suspended their activities. As of September, there were a total of 473 thousand of them. , i.e. by 9 thousand more than in August. They accounted for 10.2 percent. all entities in the REGON register.
The largest increase in the number of companies with suspended operations compared to the previous month (as much as 41%) was recorded in the accommodation and catering industry. After the restrictions were loosened in July and August, worse times came for this industry in September.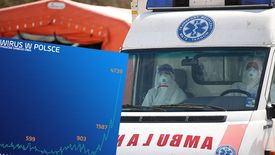 Coronavirus in Poland. The graph is climbing up
The largest increase in the number of companies that suspended their operations was recorded in the Zachodniopomorskie Voivodship (11% compared to August), Pomorskie (also by 11%) and Warmińsko-Mazurskie (3.6%), i.e. regions for which it is important tourism.
From among all industries presented in the chart below, in September only in the case of accommodation and catering there were more deregistered entities than registered entities. However, this is a seasonal phenomenon and it was similar in September a year ago. It seems that some companies simply disappear from the market after the holidays are over.
With 33 thousand almost 7 thousand newly registered companies, i.e. every fifth, operate in the construction industry. At the same time, just over 2,000 were deregistered in September. In this respect, the statistics for the construction industry are similar to those in September last year.
Quite significant changes can be seen in the trade and repair of vehicles. This is a fairly wide group of companies, which includes both retailers, wholesalers and car repair shops. In September, almost 6 thousand. such companies, while over 3 thousand were deregistered. The overall balance looks much better than in the corresponding month a year ago, when 4.9 thousand were registered and 4.2 thousand were deregistered.
31 min. ago
such a thingeven if half of tourism in Poland is lost, 150% more Poles will travel than under the SLD-PSL rule and 50% more than under the rule … Read the whole thing
53 min. ago
jendrekConstruction workers lost their jobs in companies, so they started one-man jobs. PiS success
33 min. ago
good nightclaims to the PRC
Expand comments (5)