After the battle with the world aces in the finals of the Diamond League in Zurich, she enjoyed another race and set off for the first time at the Turnov stadium.
And besides, for example, South African Jo-Ane van Dyková, she also competed with teenagers from Vlašim or Rumburk, for whom a joint race with Ogrodníková was a great experience and they can now display a joint photo on social networks, for example.
"I was the same. When you are in the sector with someone who is going to the World Cup or the Olympics, you have him as a role model and you want to go the same way, it is a good motivation, "says Ogrodníková.
"In my youth, I was involved in all-around and obstacles, so I took pictures with all the athletes, including sprinters," recalls the 31-year-old female athlete. "I'm just sorry the girls saw me throwing only 58 meters, maybe they'll keep cheering for me," she laughed.
The winning performance of 58.22 m could not inspire her, but she felt that the busy season was coming to an end. "I knew I could still throw far, I'm fine physically. But I threw worse than in Zurich, it flew a lot upwards, "said Jan Železný's trustee, who worked this year with a chipped rib, a blocked neck and now with a quadriceps. "I could see I was dodging the throws," she admitted.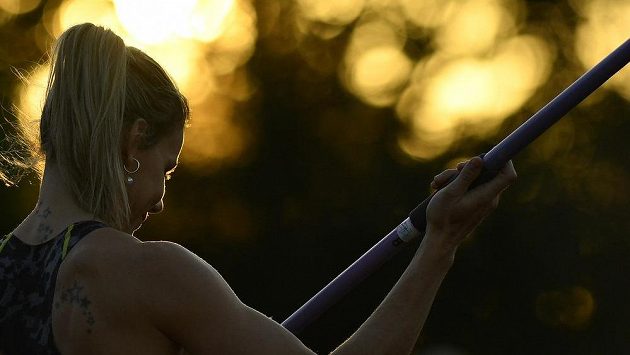 Nikola Ogrodníková during the victory in Turnov.
Radek Petrášek, ČTK
He's not having a bad season. He got 65 meters again, the third place in the Diamond League also has its weight. But the peak, to which not only athletes clung in the form of the Olympic Games, ended in a qualifying crash.
"The performances were not a complete misery, I stabilized the technique. But the Olympics were a big disappointment, which they will only make in the coming years, when I throw very far or win a medal, "he knows.
More time in the heat
In the following season, he will have two opportunities to do so, the unusually delayed world championship in Eugene, USA, followed by the European Championships in Munich. "I definitely want both events, I will defend silver in Europe, but first there will be a world and it is more important," he says.
Therefore, he plans a change in the preparation with the whole group. "After training in Africa, we returned to the Czech winter after three months, and suddenly they were worried for a month and could not devote themselves to technology. So we will go to Africa for another training camp in the heat, "he plans. But now she will enjoy a post-season holiday, in which, in addition to the spa, her favorite diving must not be missing.