Halloween is approaching, also known as Halloween, and in this connection, a pile of games is rolling out horror-related content. Call of Duty is no exception, and from October 20, things will be a little scarier in both Warzone and Modern Warfare.
Haunting of Verdansk is the name of the program, which introduces both cosmetics and completely new ways of playing. There's a bit of everything here to indulge in, but the biggest news is probably the temporary Zombie Royale mode.
In Zombie Royale, players turn into undead when eliminated. The zombies cannot use weapons, but run faster and hit harder than usual. If they manage to pick up two special syringes from dead players, the zombies can also return in full. The team that is left with at least one live player, ie not water dead, wins.
In addition to monsters, Warzone players will also encounter a new type of coffin, which is part of a separate treasure hunt. By opening the chests, you can find a total of 16 different cosmetic items, such as weapon decorations, watches, spray paint and so on. Players who find all unlock a special machine gun that is only available during Haunting of Verdansk.
You can read more about the treasure hunt on the game's website.
Jigsaw and Leatherface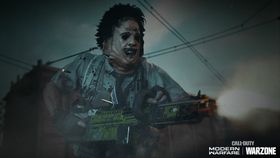 For players who don't mind opening their wallets, Call of Duty's Halloween circus offers costumes inspired by famous horror villains. In the game's shop you can pick up two different packages – one with Jigsaw from the Saw movies and the other with Leatherface from the Chainsaw Massacre.
There will also be a little extra splendor in Modern Warfare's multiplayer part. New modes – called Onslaughter and TDM Snipers Only – will be rolled out between October 20 and November 3. The game's standard modes are also embellished for the occasion, with, for example, scarecrows instead of flags and skulls instead of dogtags.
Modern Warfare players on PC can finally delete content they do not use.
No longer needed with over 200 GB of storage »
.