The fourth season has begun in Call of Duty: Modern Warfare and Call of Duty: Warzone.
"The fighting in Verdansk is coming to a head and Armistice is on the verge of collapse. In order to strengthen the city 's defenses and motivate the coalition and loyalty fighters to stick together, Captain Price finally embarks on the chaos. Can he to end the ongoing conflict? "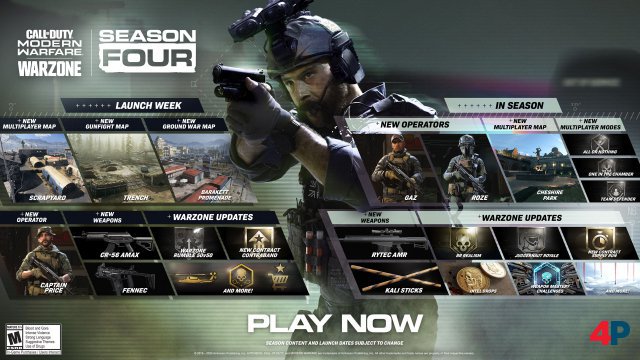 overview
"New operators: As part of the Season 4 Battle Pass, players with Captain John Price will be an old acquaintance from the start. Sergeant Kyle" Gaz "Garrick, a British Special Forces Officer and member of Task Force 141, as well as Roze, former member of the U.S. Army Rangers and melee combat expert, will be available in the store throughout the season.

'Free' updates: With the Fennec, a fast-firing SMG with solid precision and excellent control, and the CR-56 AMAX assault rifle, which quickly eliminates the opponents thanks to its long range and high damage, players receive two new weapons from Battle Pass level 15 and 31. Players can also unlock the Starrer Blick's legendary weapon plan, a Legendary Watch, an SUV skin, and more.

New game modes for Warzone: Two limited-time modes celebrate their premiere. In Juggernaut Royale, players receive the Juggernaut suit, which increases their health, has a mini-weapon and offers its own music track. Realism follows the same rules as the multiplayer mode, here the HUD is limited to the minimum and players do more damage with headshots.

New events in Warzone: Three new twists appear without warning and can affect entire matches. During the 60-second fire sale, items at the buy station are reduced by 80 percent or even free. Fallen comrades can also be brought back free of charge. When a supply chopper appears, players should get it out of the sky as quickly as possible to grab the high-quality items before their enemies anticipate them. In the case of a jailbreak, all eliminated players, both from their own team and from the opponent, return to the match.

New MP Cards: Players can fight each other in three new multiplayer cards. Zhokov Scrapyard (Standard Multiplayer) is back and the junkyard for aircraft parts offers not only intense close combat in the small map but also some good positions for snipers. In the Barakett Promenade (ground war), players can take advantage of the houses, scour interior spaces and, above all, fight with a heavy arsenal. In Trench (Gun battle) players will find a network of connected trenches. Fast reflexes help to switch off the opponent or to get safe from snipers. "
.