The players were injured, the fans walked into the stadium, what a chaotic night at the Allianz Riviera.
The match between OGC Nice and Marseille in the second week of Ligue 1, at the Allianz Riviera, Monday (23/8) early morning WIB, ended in riots. The game actually went interesting, but was marred by noisy actions between players.
The fans also entered the field, to be exact, the home fans, and this caused the match to be stopped. Marseille refused to come out of the dressing room, because this incident was quite scary.
The referee blew the final whistle with only Nice's players left on the pitch, and the penalty was set on Marseille. Under the rules of the Ligue de Football Professionnel (LFP), Marseille automatically lost three goals without reply.
This commotion started when Nice fans threw stones at Marseille players who were playing on the field. Dimitri Payet ignited the situation, after he hit back at the fan's throw when he wanted to take a corner.
What happened to Nice and Marseille?
Supporters at the Allianz Riveira pelted the Marseille players with various items throughout the match, and Dimitri Payet threw a bottle back at him. The situation occurred in the 74th minute, when the former West Ham United wanted to take a corner kick.
After that, things got chaotic as the Nice fans burst onto the pitch, pushed the billboards on the sidelines and showed that they were ready to fight with the Marseille players. Some players even show scars after the game.
Matteo Guendouzi and Luan Peres showed that their necks received scars, such as strangulation scars, due to this incident. Unfortunately for Peres as a newcomer in Ligue 1, because a few days after arriving in France, his house was robbed.
In this footage of the commotion at the Allianz Riveira, Jorge Sampaoli, was also seen getting angry with this incident. One supporter was also caught and had to be quickly evacuated on a stretcher due to serious injuries, and Payet received a claw wound on his back.
What are they saying?
This situation is scary and unfavorable for Marseille, and is the reason they are reluctant to continue the match. "We won't play! We won't play!" said Pablo Longoria, president of Marseille.
Nice and the LFP will continue to process the penalty for Marseille, but Longoria believes that is not the way to go. "The referees supported us, they agreed that the game was not safe for us," said Longoria.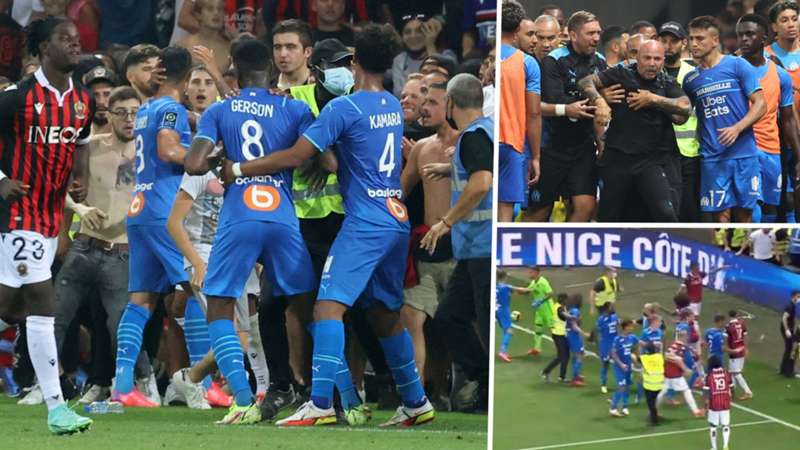 .