Bouygues Telecom is not waiting for tomorrow and the presentation of the new Freebox Pop. The operator improves its offer Bbox Ultym Fiber, whose speeds can now reach 2 Gbit / s for downloads and 600 Mbit / s for downloads. It is actually much faster than with the previous version (1 Gbit / s for download, 500 Mbit / s for upload).
This box, launched at the start of the year, has the distinction of integrating Wi-Fi 6 which is starting to make its mark among operators (SFR Box 8) and in our devices dont l'iPhone 11. The operator also provides on request a Wi-Fi 6 repeater to cover the entire house.
All new Ultym customers will receive the Bbox Wi-Fi 6, whether they subscribe by phone or via the internet, which for one reason or another was not the case before. In addition to fixed internet access, the Ultym offer includes unlimited fixed and mobile calls in France, Europe, Switzerland and to landlines in more than 110 countries, more than 180 TV channels, a 4K decoder, a 128 GB recorder, a bonus of your choice (Canal + Series, 4G key, etc.) and the Cafeyn newspaper and magazine service (formerly LeKiosk).
For any new subscription, Bouygues Telecom offers its Bbox Ultym at € 27.99 per month for 12 months (then € 45.99) with a one-year commitment. The rental of the box is included in the price, valid until August 16. Note that there is a commissioning fee of € 48 and a termination fee of € 59. Prices increased at the same time as debits, since the Ultym package was previously offered at € 24.99 for one year, then € 41.99.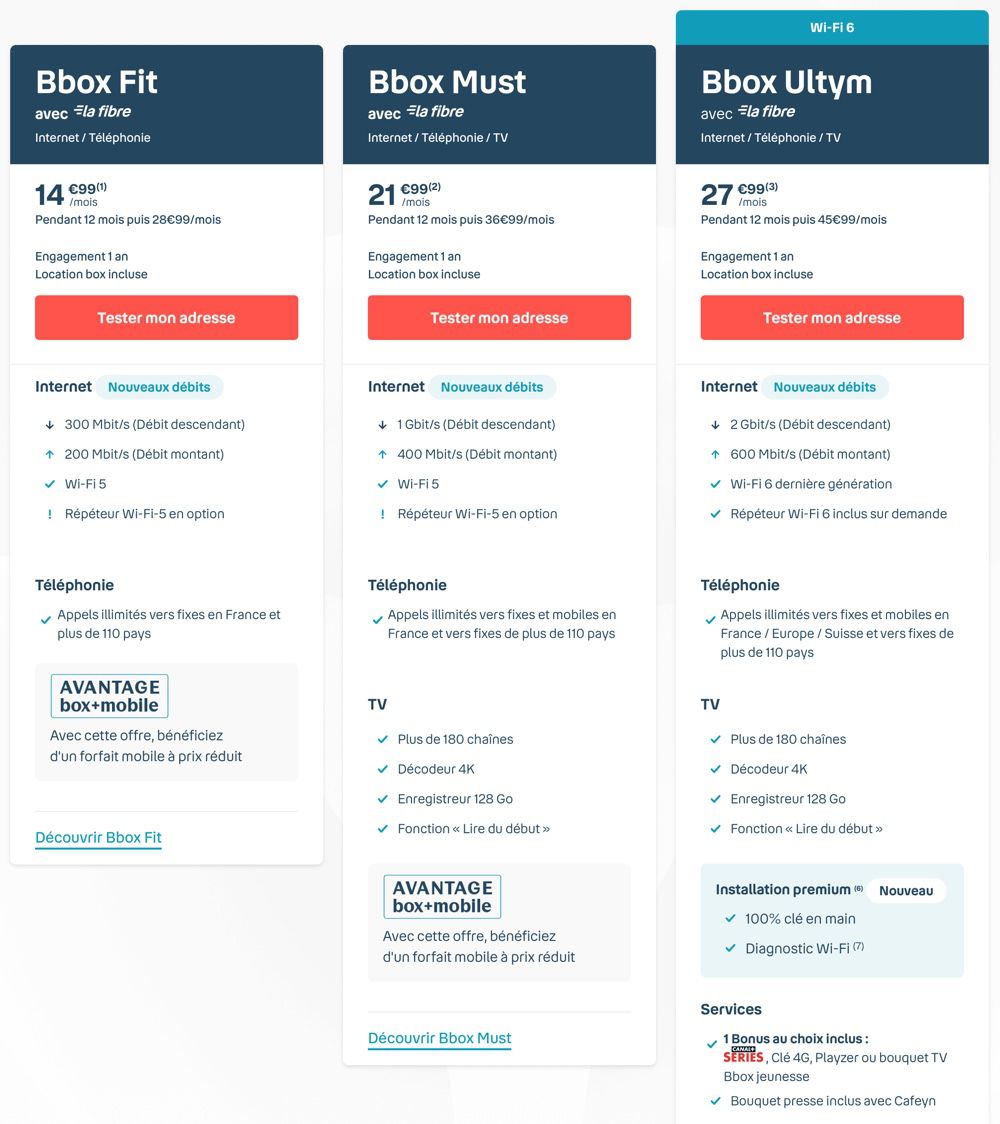 Among other changes of the day, Bouygues Telecom also increases the price of the Must offer (Wi-Fi 5) which takes two euros, to € 21.99 for a year, then € 36.99. In exchange, the speeds are faster: 1 Gbit / s (down) and 400 Mbit / s (up), instead of 500 Mbit / s and 300 Mbit / s. If the basic Fit formula retains its price of 14.99 € for one year, it also increases by two euros thereafter, to 28.99 €. The download speed goes to 300 Mbit / s, against 200 Mbit / s; the upstream speed is now 200 Mbit / s (double).