With 219 to 212 votes, the majority of MPs in the US House of Representatives approved President Joe Biden's corona aid package. The $ 1.9 trillion (EUR 1.56 trillion) program includes funding for vaccinations and medical equipment as well as grants for households, businesses and governments at the local and state levels. Numerous citizens will each receive $ 1,400 as a direct payment, and the unemployed will receive an additional $ 400 a week until the end of August. Anyone who is currently unable to service rent or home loans should be able to apply for additional funds.
A subway, but no higher minimum wage
The opposition Republicans criticized the fact that only nine percent of the total went directly into the fight against the pandemic – there are unnecessary elements such as a new subway near the constituency of the Democrat Nancy Pelosi in San Francisco: "Here money becomes without account kicked out, "said Republican minority leader Kevin McCarthy.
The Republicans are linking a subway project with Democrat Nancy Pelosi, whose constituency is nearby
The move by the Biden government to raise the nationwide minimum wage to $ 15 (€ 12.35) together with the aid package was controversial within the ruling Democrats. Ultimately, Senate procedural officer Elizabeth MacDonough decided to decouple this issue from the stimulus package. In addition, 60 votes in the Senate are now required for this project.
Next stop: Senate
After the vote, which was successful from the government's point of view, the aid package will now be presented to the Senate. In the "House" the dissenting votes of two Democrats had no effect, but in the Senate Biden is dependent on faction discipline: There both parties hold 50 seats each, while Vice President Kamala Harris has the decisive vote in stalemate situations.
In absolute numbers, the USA was hit harder by the coronavirus pandemic than any other country: According to figures from Johns Hopkins University, around 28.5 million infections and now more than 510,000 deaths have been reported nationwide. A gigantic vaccination campaign is to put an end to this: The Biden government expects 600 million vaccine doses by the end of July, so that by then all citizens can be vaccinated. So far have been loud CDC's "Vaccine Tracker" a good 70 million vaccine doses administered.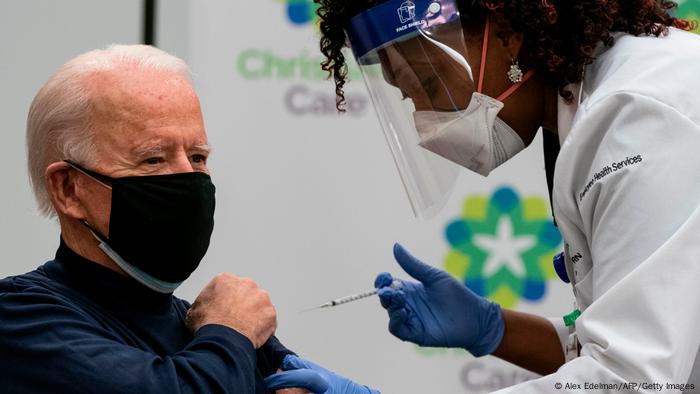 President Biden was vaccinated against Corona in December
ehl / haz (dpa, afp, ap, rtr)
.