Jakarta, CNBC Indonesia – Singapore is indeed the smallest country in Southeast Asia, but its business and investment networks spread throughout the world.
This is because the investment vehicle that manages the sovereign wealth fund (SWF) of the Singapore government is quite active in investing in various countries, including Indonesia.
Even secretly the traces of his investment can be seen in domestic technology and digital startups. Singapore has begun to grip the digital economy in Indonesia, the country which is the largest economy in Southeast Asia.
The Singapore government has three main investment entities that manage wealth funds (SWF) and foreign exchange reserves. The three entities are GIC or Government of Singapore Investment Corporation, Temasek Holdings (Private) Limited or Temasek for short and Monetary Authority of Singapore (MAS).
The official website notes, GIC was founded in 1981 with the aim of managing more than US$ 100 billion of foreign exchange reserves across various asset classes, the value is equivalent to more than Rp. 1,450 trillion (exchange rate of Rp. 14,500/US$).
Global SWF reports that GIC reached up to US$ 17.7 billion or equivalent to Rp 257 trillion in 65 different deals.
GIC's position is above the Canadian public pension fund (CPP), which manages SWF Canada which made 33 investments last year, totaling US$ 15 billion or equivalent to Rp 218 trillion.
Photo: GIC Investment Portfolio Distribution, official website doc
Distribution of GIC Investment Portfolio, official site doc
Currently, the total assets managed by GIC reach US$ 360 billion or equivalent to Rp 5,220 trillion, slightly larger than Tamasek with total assets reaching US$ 280 billion or around Rp 4,060 trillion.
For GIC, currently chairman was held by Lee Hsien Loong who is also the Prime Minister of Singapore since 2004. The CEO (Chief Executive Officer) of GIC was held by Lim Chow Kiat since January 2017. He previously held the position of Group Chief Investment Officer GIC and Deputy Group President.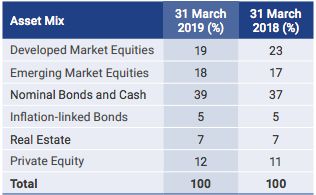 Photo: GIC
gic
As for Temasek, based on the official Temasek website, as of March 31, 2021, its net portfolio reached S$ 381 billion or around Rp 4,076 trillion (assuming an exchange rate of Rp 10,699/S$), an increase of S$ 75 billion (Rp 802 trillion) or nearly 25%. from the net portfolio gain achieved last year.
Meanwhile, for MAS, although not as active as the other two entities, MAS, which also acts as Singapore's central bank, manages Singapore's foreign exchange reserves.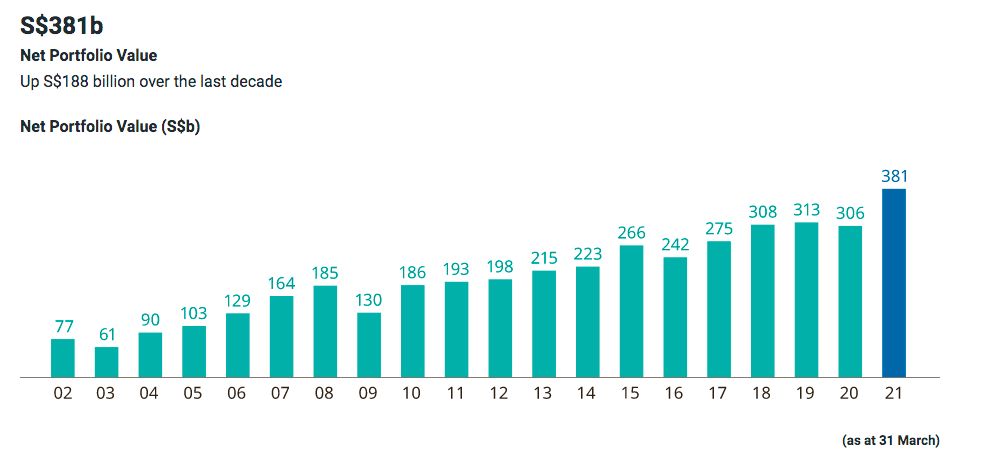 Photo: Temasek March 31, 2021
Temasek March 31, 2021
GIC-Temasek Penetration
Furthermore, two other investment giants belonging to the Singapore government, namely GIC and Temasek, regularly and actively penetrate into many companies, both globally and in the Southeast Asian region.
This investment includes Indonesian start-ups, especially those engaged in technology that enliven the digital economy.
GIC's investment footprint in Indonesia can be seen from its shareholdings in PT Bank Jago Tbk (ARTO) and PT Bukalapak.com Tbk (BUKA), while Temasek's investments in Indonesia include Tokopedia, Gojek and a startup company from Singapore that has a business octopus in Indonesia, Grab.
On August 5, data from the Indonesia Stock Exchange (IDX) noted that GIC Private Limited, which is the manager of the Singapore government-owned SWF, officially purchased shares of the issuer. e-commerce Bukalapak as much as 1,600,797,400 or equivalent to 1.553% of Bukalapak's paid-up and placed capital.
The purchase was made at a price of Rp. 850/share with a total disbursement of Rp. 1.36 trillion. Bukalapak is an e-commerce platform supported by the Emtek Group (PT Elang Mahkota Teknologi Tbk/EMTK) and has the largest initial public offering (IPO) in the history of the Indonesian capital market, which is Rp 22 trillion, with an IPO price of Rp 850/share.
Previously, the Singapore government (Government of Singapore/GOS) and the MAS authority already owned 9.447% of Bukalapak's shares, not through GIC, but through Archipelago Investment Pte. Ltd.
With the latest share transaction on August 5, the number of shares owned by the Singapore government became 11.33 billion shares or 11.001% of the total issued and fully paid capital of Bukalapak.
Based on the Bukalapak IPO prospectus, the total ownership of GOS-MAS is diluted and has decreased from the previous 12.60% before the company conducted the IPO.
With the repurchase of BUKA shares to maintain its investment (which had been diluted), the Singaporean government has once again strengthened its investment in Indonesian companies.
Before investing in Bukalapak, GIC first invested in a banking issuer with fantastic stock performance in the past year, Bank Jago, a bank that also belongs to Gojek.
GIC officially holds 9.12% of the digital bank's shares through the scheme rights issue or the issuance of new shares with Pre-emptive Rights (HMETD) which was completed in mid-March.
This transaction occurred when Bank Jago issued 3 billion new shares at an exercise price of Rp 2,350 per share in which PT Metamorfosis Ekosistem Indonesia (MEI) and Gopay or PT Dompet Karya Anak Bangsa (a subsidiary of Gojek) did not fulfill their obligations in full, and delegated their quota to GIC.
GIC is reported to have spent up to Rp 3.15 trillion to execute the Preemptive Rights of 1.19 billion units.
NEXT: Behind Tokopedia-Bukalapak-Shopee
.