Audio Pro is a Swedish audio equipment manufacturer that deserves much more recognition. For example, because of its ambitions, the fruit of which is, among others, a set of A36 stereo speakers.
These ambitions can be seen, for example, in the manufacturer's declaration, who claims that the A36 is a set that will make us forget about soundbars. I have been checking this declaration for a week and I must admit that there is something in it.
Audio Pro A36 – traditional, timeless form. In almost every way
It almost makes a huge difference of course, but let's start with the tradition. Just look at their appearance. At first glance, they look like speakers that could very well be built in the 70s, 80s or 90s. These shapes are simply timeless, so they match the decor of almost any living room. The user only has to decide whether he prefers the black or white version.
Their modernity reveals itself only after a while, after which we notice, for example, magnetically mounted speaker grilles, or an inconspicuous LED diode, which informs us about the current source of the sound being played with its changing color. No digital, aggressive displays, buttons and other such goodies.
Scandinavian minimalism and elegance. In addition to the magnetic grilles, I also really like the fact that the manufacturer decided to attach stands for the speakers. Of course, they can be dismantled, but their presence completes the feeling that the A36 is a complete set. Like this: Take it out of the box and plug it in, instead of worrying about missing accessories.
The remote control included in the set, the housing of which is made of brushed aluminum, also deserves a separate paragraph. It looks great live and does not deter with a million buttons. In fact, the manufacturer placed only the most obvious functions on it, thanks to which the remote control is very readable and easy to use. But let's move on to the most important point.
Take it out, plug it in and listen – A36 sound quality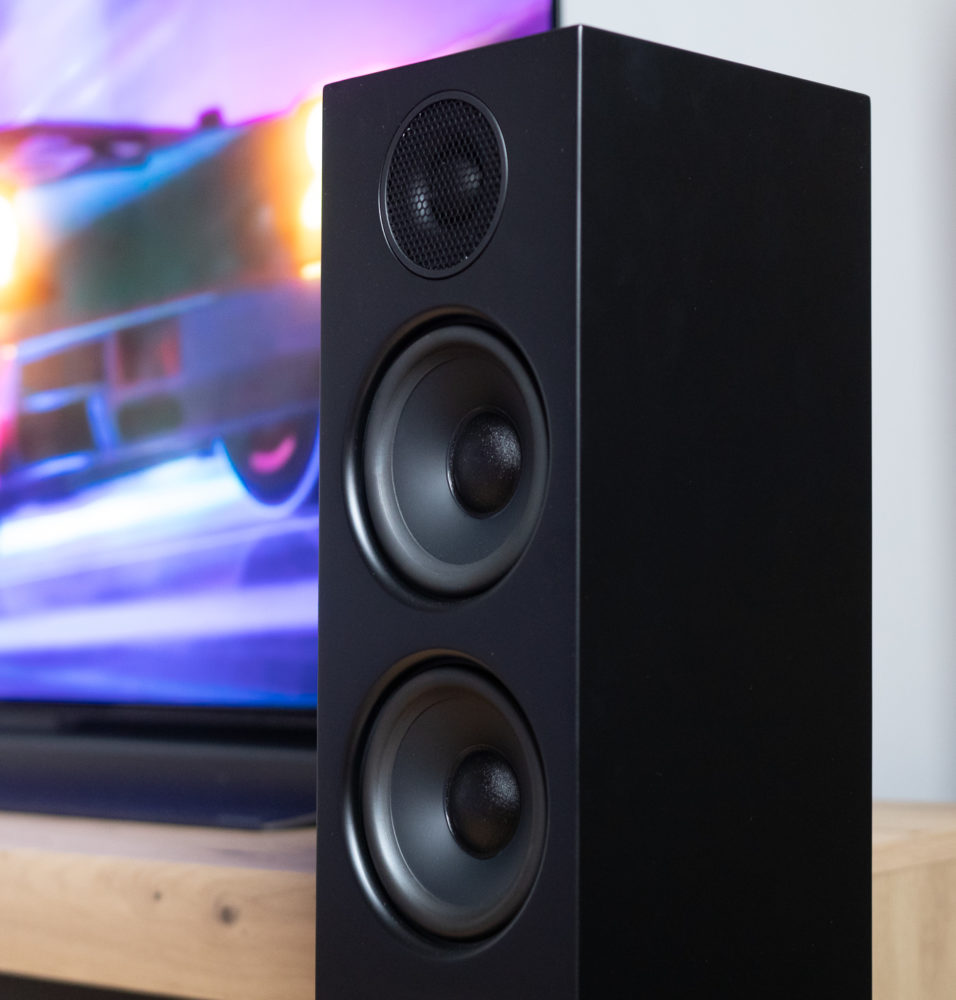 After taking the speakers out of the box and plugging them in, I immediately paired them via Bluetooth with my phone and turned on Spotify. Error. The Audio Pro A36 offers much higher sound quality than Spotify, and the speakers can stream music from the cloud by themselves, so you don't need to use a Bluetooth connection. Tidal Hi-Fi seems to be a more adequate solution in this case.
This is not a cheap soundbar, which greets us with distorted bass and conquered treble. The equalizer available from the level of the mobile application can of course mask most of the problems related to wireless music streaming in at most average quality. However, the real enjoyment of listening begins once you plug in Audio Pro kit cable to something more meaningful.
The manufacturer declares that this is a set designed with TVs in mind, so I did exactly that. By connecting the speakers to the HDMI ARC input, the Audio Pro application also allows you to activate virtual surround sound. After enabling this function, I sat down in front of the TV and… yes, indeed, these speakers are indeed soundbar beaters.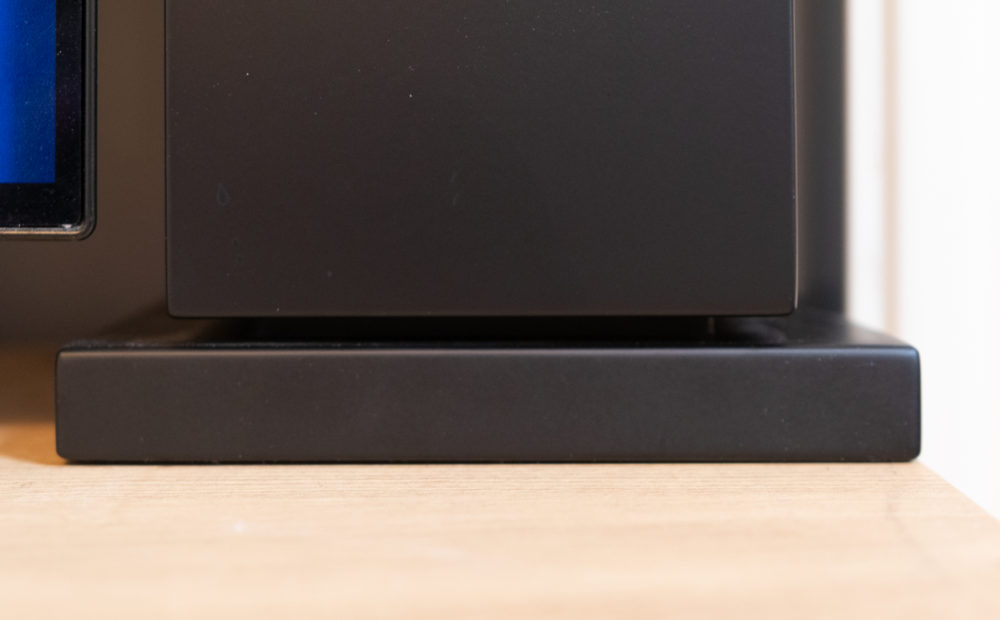 The spatiality of the sound, the accuracy and separation of individual frequencies offered by the A36 is something amazing. I was so fascinated by the quality of the sound that as part of the tests, I was like being possessed by watching the next films from my collection, listening to the smallest sonic details. All the guests I invited to the listening session of the A36 had similar feelings.
Just as well, or even a tad better, the A36 is good at playing game sounds. This has a lot to do with the fact that game developers are much more generous with low frequencies (explosions, gunshots, noises from mighty engines, etc), giving the woofers (2x 114mm long stroke) something to do all the time.
If you are concerned that diaphragms of this size will not handle bass well enough, I reassure you: they will do well. They will do just fine. Their long stroke provides just the right amount of depth, and their size copes well with low-range sound control. It more or less means that the bass sounds that appear one after another do not overlap (which I personally hate).
After movies and games, it's time to check out other uses for this set.
The built-in DSP is at least as good for music as it is for movies. The great advantage of this set is a very natural sound, which allows you to find significant differences between individual recordings. This naturalness can of course be enhanced with the built-in equalizer, which we connect to using the mobile application from our phone. I must admit that once or twice I happened to boost the bass a little.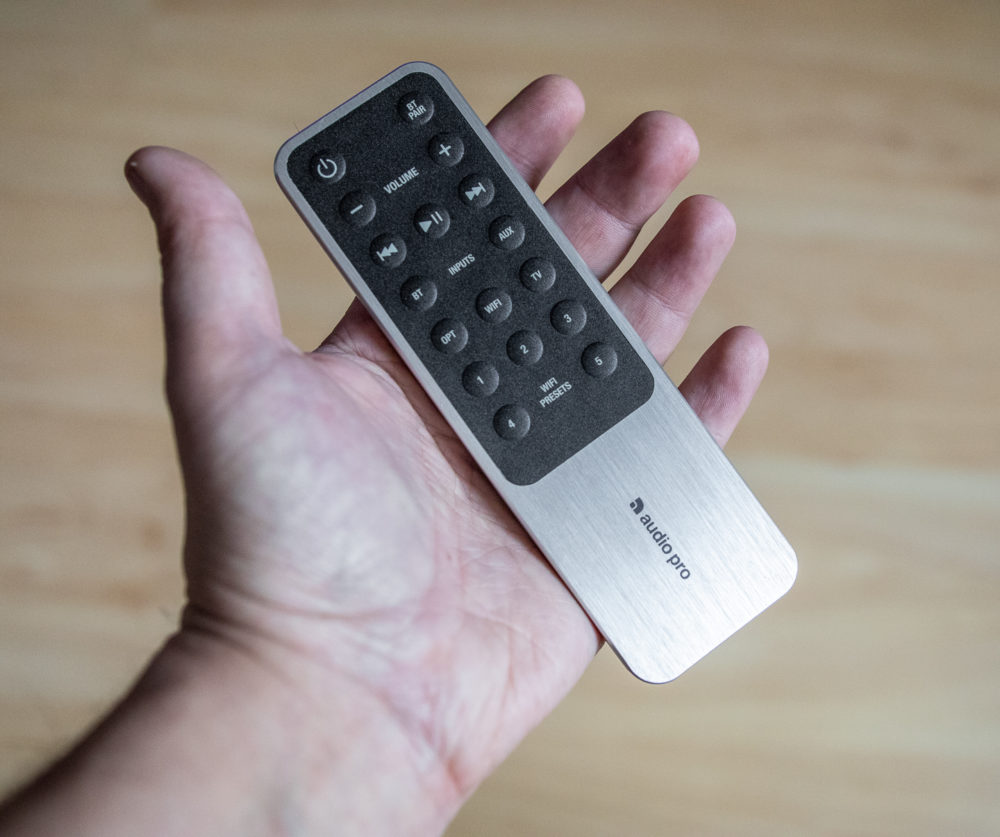 I also do not hide that from the inborn laziness and convenience offered by the application, I also returned to streaming music from Spotify and Tidal. This time, however, instead of streaming it from the phone, I again used an application that allows you to stream music directly from the speakers. It gives much better results.
When discussing the application, it is also worth mentioning that it allows you to synchronize the Audio Pro equipment and create a multiroom system from it, or simply expand the A36 set with additional speakers. I think about, for example, the Addon C-SUB (or Addon T3) and a few speakers, so that when I wake up in the morning I can immediately ask Alexa (the application works with Amazon's voice assistant) to play a nice note throughout the house. Multiroom systems are wonderful.
All my friends (including a few musicians) who had a chance to hear how the A36 played decided that this set costs 1.5 times more than it actually is. This is perhaps the best summary of whether it is worth buying. In the longer version, I would add that I fully agree with the manufacturer – no soundbar in a similar price range will sound better than this stereo set. And it will certainly not look as dignified as these speakers.
The great advantage of the A36 is also that it is a very complete kit. If someone does not have time to choose the right amplifier, speakers, cables, etc., they can simply buy Audio Pro speakers, take them out of the box, connect all (or almost all) sound sources, conveniently switch between them via the remote control and enjoy really good audio quality. TV, music equipment, console, direct (from the speakers) music streaming from the cloud – all these things can be done on the A36, without switching any cables.
As for the price, let me say this: it is not equipment that changes as often as TV sets. The A36 seems to be solid speakers that will last a long time. And in 10 years they will look as good and timeless as they do today.
The equipment was shared over the network Top Hi-Fi & Video Design