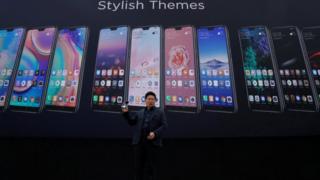 According to reports, the United States is investigating Huawei's "theft of trade secrets" of American business partners.
The criminal investigation was first reported by the Wall Street Journal (WSJ).
The Trump government urges China to act on technology theft or demand extra trade tariffs.
Huawei and the Ministry of Justice refused to comment.
The WSJ said the investigation was partly due to a lawsuit filed by telecommunications company T-Mobile against Huawei in 2014.
T-Mobile accused Huawei of stealing the technology of a robot developed by T-Mobile to test mobile phones.
A Seattle jury in 2017 agreed that Huawei had misused trade secrets, but found that the acts were not "deliberate and vicious".
The probe increases pressure on Huawei, one of the world's largest technology companies.
spying allegations
Last week, a Huawei employee in Poland was arrested and charged with espionage.
The company, which manufactures smartphones and telecommunications equipment, is accused in the US and other countries that its equipment could be used by the Chinese government for espionage.
Huawei has denied these claims. On Tuesday, Huawei founder Ren Zhengfei denied that the company had a spyware risk.
The US has also accused the company of lied to US banks for violating their US sanctions in Iran.
Last month, the company's chief financial officer in Canada was arrested at the request of the US in connection with these claims.
The arrest intensified tensions between the US and China, which are fighting for influence around the world.
The tensions between China and Canada have also increased. China has sentenced a Canadian man to death for drug smuggling after Huawei Prison.
The US has also accused China of unfair business practices, including technology theft, which caused billions of dollars in annual trade.