Samsung is already ready for the 8K. Due to lack of content, its Q900R is ... an excellent 4K TV.
The 8K is indeed a reality. Since 2018, even. Indeed, at the time of the democratization of the 4K, become the standard in the departments Darty and Fnac failing to be for television programs, Samsung already markets a specimen with a slab of 33 million pixels. Undoubtedly, the Korean firm has taken everyone by surprise, including the consumer, who may have taken advantage of the World Cup to renew their equipment.
But still, at the time of writing, no 8K content is available in France (in Japan, the NHK channel is already ready). How does Samsung intend to justify, therefore, that we crack today for pixels that we do not need and which we can not really enjoy? As a commercial argument, the tech giant argues that its scaling, enhanced by an "artificial intelligence", provides a bluffing rendering. We could see for a few weeks.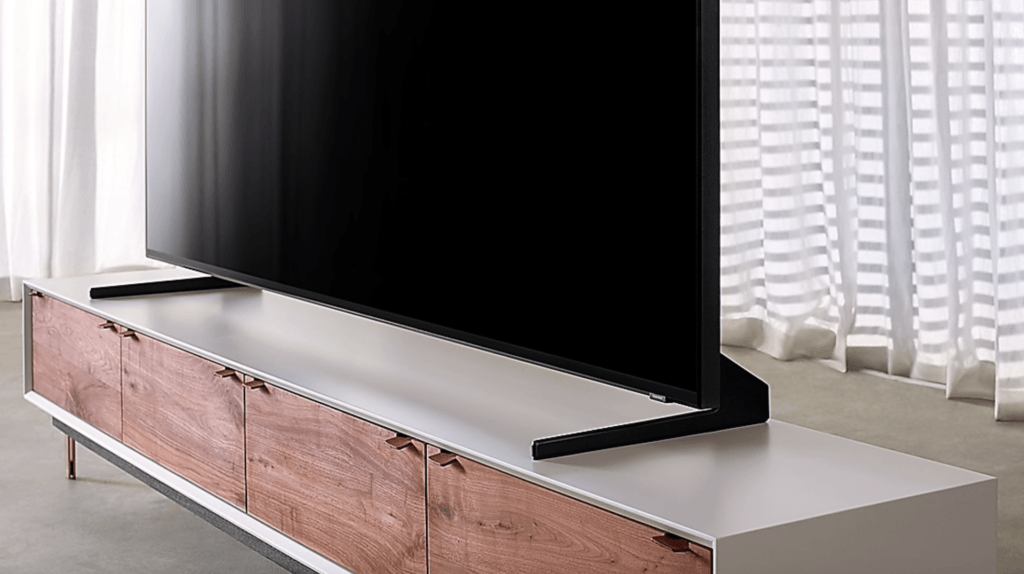 Elegant sobriety design
At Samsung, the 8K TV carries the Q900R, available in 65, 75 and 85 inches (we received a copy of 75 inches). It takes the form of a huge black frame, which assumes its edges like a painting. Perhaps we could talk about an inspiration from The Frame models. Never mind, the Q900R is distinguished by its elegant sobriety, articulated around a wise design and exemplary finishes (nice grooved plastic in the back). We feel that Samsung has privileged the image. We still applaud the trick of the feet, which are housed in the TV if they are not used and can be screwed in two configurations depending on the length of his furniture. And although they do not sweat the solidity at first sight, the visual impression is quickly swept away.
The Q900R is not HDMI 2.1 obedience
Otherwise, the Q900R comes with a remote One Connect case, to connect to the TV with a clear cable provided. Heavy, but compact enough, it brings all the connectivity, necessarily very well provided in HDMI ports. Note however that the Q900R is not HDMI 2.1 obedience, yet essential for the 8K at 60 Hz - so-called immersive (among others). This defect may be forgotten in the future, the interest of One Connect nestling in its replaceable character and, in turn, evolving. Samsung would have already provided a box certified HDMI 2.1.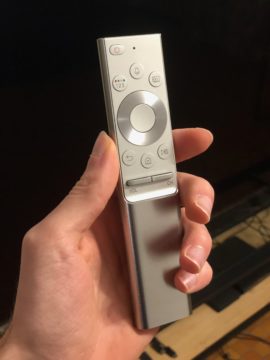 The indispensable remote control - universal and compatible with several devices - is here proposed in a minimalist form - but with a metallic dress of the most beautiful effect. Robust, it is satisfied with the strict minimum in terms of keys, ergonomic limits justified by the ecosystem SmartThings Samsung (which will integrate with your home automation). Nevertheless, considering the premium appearance of the object, it is estimated that Sony and LG would do well to take the seed ...
The algo at the service of scaling
Samsung would like us to believe that the absence of native sources 8K can be mitigated by a artificial intelligence who would have learned - and continues to learn - to degrade / recompose millions and millions of images from a huge database. When such a promise is mixed with key words that sound good in 2018 and 2019, we ask to see. Especially since there is still a hell of a pixel gap between a 4K UHD image (3840 x 2160 pixels, or 8.3 million pixels) and an 8K image (7680 x 4320, or 33.2 million pixels) ). And compared to a 480p SD image (720 x 480 pixels, or 345,600 pixels), there is ... a chasm to fill.
In use, difficult to criticize the benefits of the Q900R, as it relies on a significant modeling, an astonishing delicacy at the contours, invigorated dive and a tendency not to over shoot the artificial. That being the case, we must recognize that miracles do not exist: if artificial intelligence gives its maximum, the poorer the source, the less sublimated it will be. Understand: The Q900R is doing a lot better with both FHD and UHD sources than with age-related content. As a bonus, we never had the impression that the 8K scaling takes a break with a high-end 4K TV equipped with a powerful processor.
This suggests that the Q900R is less focused on creating a truly stunning 8K image than on making a lower definition source digest on a 33 million pixel panel. This necessary compensation undoubtedly requires too much resources to do more. Nevertheless, it seems complicated to be choosy: the visual rendering is a real pleasure when you give good ingredients to the Q900R. It should be noted that the 8K offers an exclusivity in terms of use: the ability to glue the nose to the screen without seeing the trace of a single pixel, which will bring his sofa.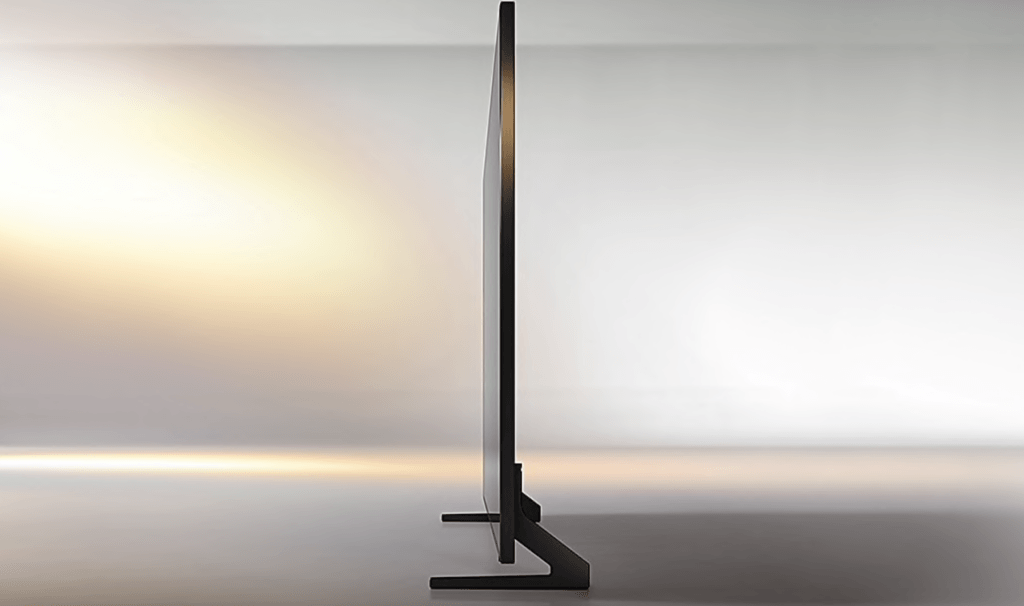 From HDR to 4000 nits
It has not been mentioned before, but the Q900R is not an OLED TV. Samsung requires, it's the QLED technology that is used here - either LCD with backlight. If it does not have the qualities of the OLED (it comes close), the QLED offers bright peaks of incredible power. For the 75 inch, it goes up to 4000 nits - where the best OLED struggle to exceed 900. This argument allows two things: make the experience comfortable in a room (very) illuminated and offer HDR rendering with a dynamic unequaled.
It is true that the HDR content - not Dolby Vision, alas - are full eyes - a little too much with such power. However, if Samsung maximizes the potential of QLED, it still can not mitigate its flaws. As evidenced by these color drifts that appear when one moves away from the axis (it is seen less on 75 inches) and this blooming - or halo of unwanted light - unsightly that comes to parasitize blacks who strive to be as deep as possible (we are still far from what the OLED proposes).
Luminous peaks of unheard-of power
We will also take care to temper a little the Q900R, which tends to get a little too out of cardboard (advice: lowering the color slider by a few points). Once adjusted in minutes, the rendering is distinguished by its propensity to suit any type of content (where the OLED is more comfortable with movies in the dark). Feel free to switch from one image mode to another according to your preferences, although Normal and Cinema modes are always preferred. In the latest recommendations, it is necessary to carefully set the motion compensation, which can generate artifacts if we decide to overly fluidify the image (good test: sports content). How often, it is better to delete it.
Without question, the Q900R is one of the best TVs to indulge in video games, theinput lag (delay in the display with respect to the pressure of a key) being imperceptible and colors intrinsically very gaudy - to adjust, remember it - becoming, therefore, more suitable. As for theupscaling in 8K, it has no harmful impact - quite the opposite with a state-of-the-art console (PS4 Pro or Xbox One X).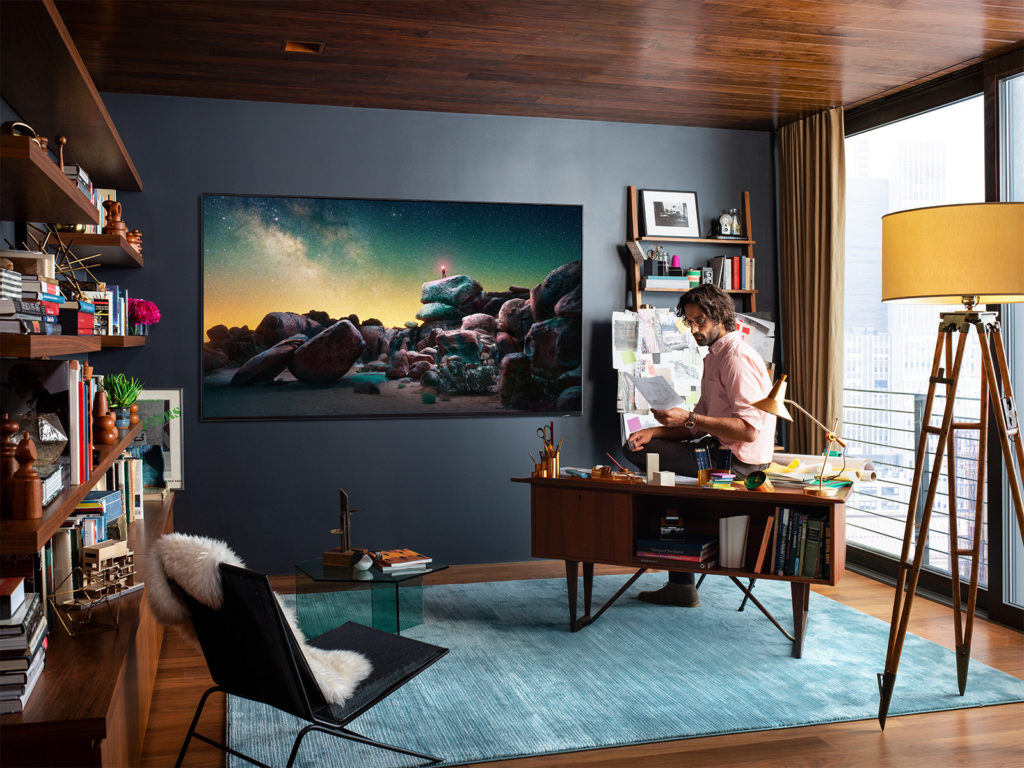 Samsung does almost as well as Android TV
Like LG, Samsung relies on its own operating system to bring its TV to life, packed with connected features. And God knows he does not have to blush Android TV - present at Philips and Sony - at the level of available applications. From MyCanal (still in decoder mode) to Netflix, via RMC Sport or Amazon Prime (with HDR10 + on the program), Tizen is not lacking in anything. And it will be even more true in the future with the future arrival of iTunes.
Tizen is also quick to use, with a smooth and pleasant navigation (some voice commands bonus) and, another good news, the platform SmartThings strengthens the links with his smartphone. Design enthusiasts will be pleased to hear that the Q900R offers a mood mode to blend into an interior (using a photo of the wall behind).
Let's end this test bench with sound performances, which are articulated around an internal system 4.2 with a power of 60W and several listening modes. Honest for lack of generous beings (the scene before lack of magnitude), they will not replace a home theater system worthy of the name and do not rise to the height of the bar of its livery with the TVs LG of the range Signature or Acoustic Surface Technology of Sony OLEDs. To have a sound in line with the image, it will be advisable to go through an external solution. Which adds to the final bill.
Indicative rating: 4/5
No, the 8K as delivered by Samsung's Q900R will not put your brand-new, and perhaps expensive, 4K TV in retirement. Not that the Korean product is disappointing in its performance and scaling proposed by the algorithms is not convincing, but it must be recognized that the cruel lack of content does not plead in his favor.
In fact, the Q900R is more proof that 8K technology can already exist, commercially speaking, than a product on which to rush in 2019 - even for fans of beautiful images. Still, it's a blazing HDR 4K TV and the best representative of QLED technology to date.
top
Elegantly efficient design


Owl show in HDR


Convincing scaling ...


Bad
... but who does not put the 4K in oblivion


Where is the contents 8K?


Weakness sound side for a TV at this price