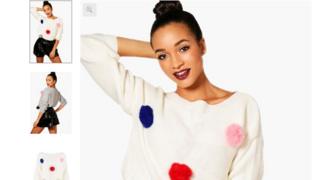 Clothing retailers were urged to take immediate action to ensure that the items they use as artificial furs are not made from real fur.
The United Kingdom Advisor has given them a deadline of 11 February, which will result in sanctions.
Last week, the Advertising Standards Authority found that online retailer Boohoo had sold a pompom sweater that used real fur, most likely rabbit fur.
It is part of a common problem that real fur disguises as fake fur.
A pompon headband sold by Zacharia Jewelers, a company traded on Amazon, also violates the rules. Last year, a BBC survey revealed that TK Maxx and other Amazon retailers had sold faux fur but genuine fur items.
The items were discovered by the animal rights organization Humane Society International as part of an ongoing investigation into the trend.
Real or fake?
Genuine fur, traditionally considered a luxury material, can sometimes be cheaper than artificial fur. As a result, some manufacturers have used fox, raccoon or rabbit fur for articles without accurately identifying them.
The findings against Boohoo and Zacharia prompted the Advertising Practices Committees (GAPs), which enact advertising practice, to issue an enforcement order.
Retailers must make sure that they are not misleading consumers and provide guidance on how to better inspect products and supply chains.
Laboratory testing was the most reliable method, but the CAP said customers and retailers could self-test items with relatively simple methods. This involves examining the base material to see if it is a natural leather or a woven fabric, and burning a part of the fur to see if it sings or melts.
The CAP said that it did not assess the animal furs ethics as a consumer good that can be legally bought and sold in the UK. However, it was said to make misleading advertising, claiming it was "faux fur" if it did not violate the rules.
moral issue
Guy Parker, Chief Executive of the Advertising Standards Authority (ASA), said that consumers who thought they would buy "furs" "in good conscience" could find it "deeply disturbing" if they had actually bought animal fur.
The Humane Society (HSI) said it was pleased that her complaint had been confirmed, but there was still "a shocking amount of fake fur" in the UK.
Claire Bass, managing director of HSI, said consumers have "the right to trust that when they buy faux fur, they will not be tempted to buy the animal cruelty that they try to avoid."
Companies that fail to do so might end up being warned about trading standards for possible prosecution.