Mayor Anne Hidalgo presented, Tuesday, the twenty winners of the second call for projects Reinventing Paris, largely devoted to sites in the basement.
Subscribers article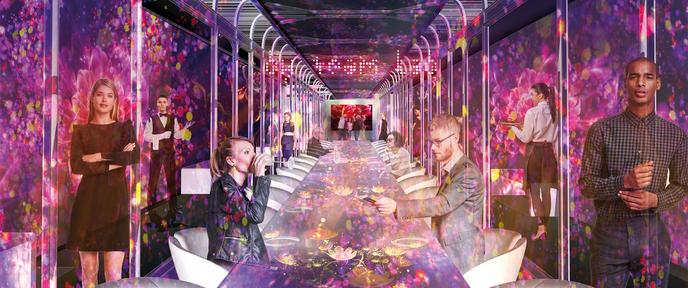 Cellars located in the Passy water reservoir for "Underwater vinification", a city of disability at the door of Pantin, a social and solidarity residence in the hotel de Fourcy, place des Vosges, an insect farm-grocer in a disused basement of the 19th arrondissement ... The City of Paris presented Tuesday January 15, at the Pavillon de l'Arsenal, the twenty winners of the second call for innovative urban projects Reinvent Paris.
An edition called "Les Dessous de Paris": old car parks, tunnels, metro stations or night clubs, a good part of the sites offered to investors were in the basement. Places that are difficult to develop: eleven sites have been postponed or have been declared unsuccessful.
Sports equipment, cultural projects, local logistics ... The call for projects has once again allowed "Extraordinary things", "Innovations that could not have been imagined in the traditional manufacturing process of the city," welcomed Anne Hidalgo, the mayor (socialist) of Paris, recalling that she could, as "At other times and in other places, simply take a piece of land and entrust it to a private developer: it pays a lot of money and we do not break our heads too much".
The context has changed since the same place, November 3, 2014, the Mayor of Paris had launched a provocateur " Let go ! " the professionals gathered for the launch of the first Reinventing Paris. The model has flourished, to the point of becoming a new standard of urbanism. Doubts and criticisms have had time to crystallize against this way of making the city without public money, in close partnership with the private sector.
Innovation in uses and constructions
Reinventing Paris triggered an earthquake in the world of development: instead of selling a site to the highest bidder for it to develop its real estate program, the call for innovative urban project (APUI) competes with groups of companies. investors, developers, associations, architects, landscapers, start-ups, who offer not only a purchase price of land, but uses for the site, a form for buildings, a commitment to the environment, a public interest for the city ... all while insisting on innovation, in uses as in constructions.