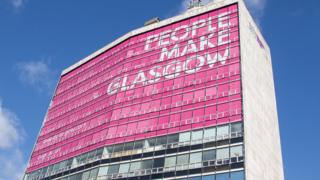 A well-known landmark of Glasgow was sold for a comprehensive redevelopment.
The former City of Glasgow College building, known as the Met Tower, became a prominent marker for the People Make Glasgow campaign, launched before the 2014 Commonwealth Games.
The pink office building dominates the north side of George Square and was purchased by developers Osborne + Co.
Office space and serviced apartments are planned for the project.
The company intends to fully refurbish the listed Tower on Hanover Street to meet demand from Glasgow's growing business district.
Hundreds of jobs
Its former owner, the City of Glasgow College, is now located in two new locations - the City Campus on Cathedral Street and the Riverside Campus on Thistle Street next to the Clyde.
The development is to create hundreds of jobs for the construction industry and to accommodate up to 1,200 employees when completed.
Will Hean of Osborne + Co said: "This acquisition will enable us to capitalize on Glasgow's current imbalance in supply demand and the market is currently characterized by a lack of flexible Grade A office space and significant backlog demand.
"We will work with the Council, Historic Environment Scotland and the wider community to achieve a cleanup that the city can be proud of and which will attract significant investment inward."