The testes tolerate both future gametes and viruses such as HIV. This "immune privilege" is studied by a Montreal team that has a unique source of samples in the world: a clinic dedicated to sex reassignment.
Subscribers article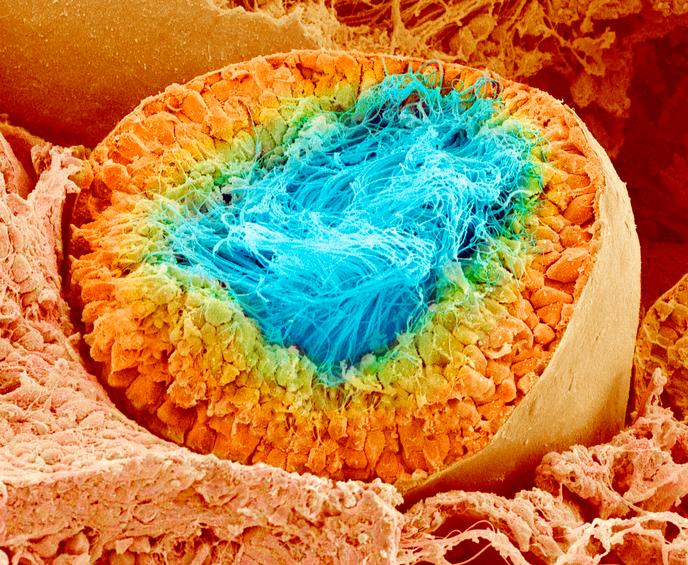 Undetectable in the blood of a person who receives triple therapy, it is mutliplie as soon as the treatment is stopped: where does the AIDS virus sit ambushed, waiting for an opportunity to invade its host again? It is home to several sites of the human body that are called sites of immune privileges such as eyes, brain or testicles. These anatomical reservoirs would be refuges for viruses such as HIV, but also Zika or Ebola.
Developing knowledge about testicular tissue immunity would help to combat the persistence of viruses. But if this place of immunotolerance is known for a quarter century, it has been little studied in the human species, lack of access ... "The more we advance on this subject, the more we realize that we can not always extrapolate rodent models to humans", reports Nathalie Dejucq-Rainsford, Inserm research director at the Research Institute of Health, Environment and Work (Irset), Rennes. The researcher is working on the impact of the environment on the human testicle and is well aware of its role as a viral sanctuary. "Getting human testicles to study them is extremely complicatedshe continues. We have at best twice a month. This is a major obstacle to the progress of research. " The testes come from organ donations from the Rennes University Hospital, or from men who have undergone ablation to treat a hormone-dependent cancer (there are more and less, the castrations being more and more chemical).
Hence the enthusiasm of Jean-Pierre Routy, researcher at the Research Institute of the McGill University Health Center (RI-MUHC) in Montreal since he found, five years ago, the opportunity to access dozens of testicular samples each month. How? By recovering, with their consent, the testicles of trans individuals who have been unloaded during a sexual reassignment operation from man to woman, at the GRS Montreal sex change surgery center.
Since then, the doctor-researcher and his team have published two scientific articles, a third coming soon. "The goal is to answer fundamental questions about the functioning of human testicular immune tissue and to develop approaches to purge the HIV reservoir", summarizes Franck Dupuy, research associate at the RI-MUHC, who works with Dr. Routy.