The ultimate winter edition of the "Motorshow" takes place against the backdrop of the US sedan market.
Subscribers article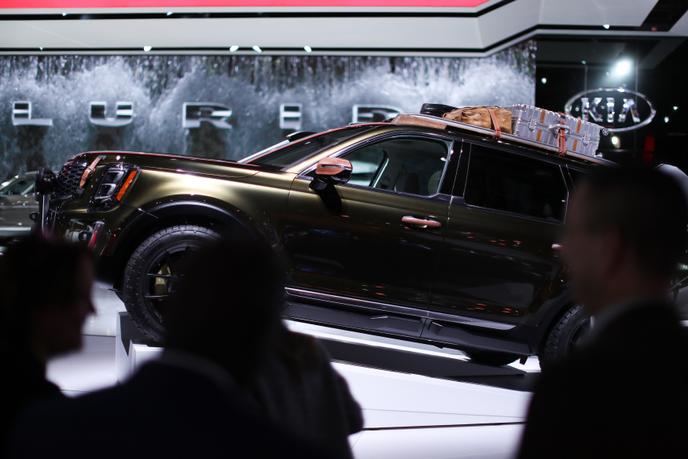 A page of automotive history is turning these days in Michigan. The Detroit Auto Show - the Motorshow, as the Americans call it - opened its doors to the press, Monday, January 14, for the last time in its traditional version, that is to say, winter. Next year, at the same time, there will be no more groups of congressmen wrapped up in the streets of Detroit, frozen by the polar cold of January. Hotels of all categories will no longer fill and some restaurants and taxi companies may be idling.
From 2020, the Detroit Show will be held in June, in a completely different setting and in a different atmosphere, that of the Great Lakes region, at the beginning of summer. But this is not necessarily a happy mood. Even though, for a long time now, many regretted the choice to organize the Motorshow during the harsh North American winter, the show was mainly dislodged from its place of first annual automotive event by the Consumer Electronics Show (CES) of Las Vegas ( Nevada), which is usually in full swing a week before.
Article reserved for our subscribers

Read also
Car shows slowing down
Indeed, over the years, the CES has become the unmissable event for automotive manufacturers, increasingly keen on technological innovation. "The week looks calm, said Monday the senior manager of a German equipment manufacturer. I only have two appointments. But that's not surprising. I had already seen all my clients at CES. "Las Vegas now fulfills the role that Detroit played, confirms Xavier Mosquet, boss of the local office of the consulting firm Boston Consulting Group (BCG), to know how to link the suppliers and the manufacturers. "
The major North American motor show has opened its ultimate winter edition in a special atmosphere, between tradition and gloom. The tradition is that of pick-ups, these huge flatbed vans typical of roads across the Atlantic.
Absence of German high-end builders
In the spotlight on the stands, they have been providing US manufacturers' margins for several years and, together with SUVs (the 4 × 4 urban cars), account for 70% of passenger car sales in the United States. We must have crossed the RAM 1500 (Fiat-Chrysler group), designated "truck of the year" at the opening of the show, to get an idea of ​​the impression that emanate these behemoths of 2.5 tons and 400 horses.