[이데일리 배진솔 기자] Intel, a general semiconductor company in the United States, suggested the possibility of expanding semiconductor consignment production (foundry). On the 21st (local time), Pat Galsinger, the next CEO of Intel, announced the fourth quarter of last year and announced that it will expand the use of external foundries for'specific technologies and products'. As a result, expectations for favorable benefits are rising for domestic companies such as TSMC and Samsung Electronics in Taiwan, which are the world's No. 1 foundries. In today's'Bae Jin-Sol's Electronic Dictionary', let's see what Intel's expansion of manufacturing outsourcing means.
Intel acknowledges that it is behind the manufacturing process and strengthens cooperation with manufacturers strategy
In the industry, Intel, a leading company that designs, manufactures and sells its own chips, explains in two ways that it will utilize the foundry of another company (consignment production of semiconductors). One is that Intel has acknowledged that it is currently lagging behind the manufacturing process competition, and the other is that Intel has made strengthening cooperation with manufacturers as its business strategy.
Intel is currently using a 10 nanometer (nm·1 in 100,000) process. This is two years behind TSMC or Samsung's 7-nano integration level or point. Even if Intel secures a 7-nano plant in 2022, competitors are already starting 5-nano, so the 2-year gap remains. Even assuming that Intel's 7-nano will come out without delay, the manufacturing efficiency and so forth cannot be ignored.
Because of this, Intel is now acknowledging the limitations of preoccupying the next generation process and devising a different strategy. Ahn Jin-ho, a professor at Hanyang University's Department of Materials Science and Engineering, said, "In the end, Intel has admitted that the internal problem in the 7-nano process will be difficult to solve sooner or later." It seems to be going."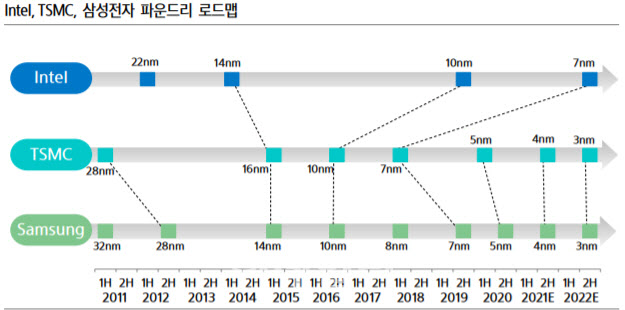 (Source = Intel, TSMC, Samsung Electronics and Samsung Securities estimates)
TSMC·Samsung Intensify Investment Competition
What does Intel's next strategy, cooperation with manufacturers, mean? Pat Gallsinger's new CEO said, "I take responsibility for the US national asset, Intel, not only for the industrial perspective, but also for the US national technology." Through this, it can be seen that Intel's outsourced foundry selection will be a choice considering the security of technology leaks while having a production base in the United States.
The industry says it will be a boon for both TSMC and Samsung Electronics, as well as fierce investment competition. In order not to be pushed out of the manufacturing process competition, we will be considering expanding the state-of-the-art production line.
An official in the semiconductor industry said, "Even if you make the same product, each company has different processes, so it is important to know which manufacturing company can meet Intel's demand well." There is no, but it is an indication that the competition for investment will be fierce along with the quantity competition."
Some believe that Intel, which is concerned about technology leakage, will choose TSMC, which specializes only in consignment production, rather than Samsung Electronics, which has its own design capabilities for semiconductors. When TSMC recently announced plans to build a state-of-the-art semiconductor mass production plant near Intel's Arizona plant, it was argued that the two companies had already reached an agreement on production.
TSMC invested 12 billion dollars (approximately 13 trillion won) last year to build a new plant in Arizona, and recently announced its foundry facility investment plan amounting to approximately 31 trillion won through an announcement of its fourth quarter results. Reports are reported that Samsung Electronics is also considering expanding its state-of-the-art production line at its foundry plant in Austin, Texas.
Professor Ahn Jin-ho said, "It was an opportunity to show us what can dominate the market in the world in the future. It is the right foundation for Samsung Electronics to expand its foundry business so far." He added, "It's time for Samsung to make choices to alleviate anxiety about technology leaks."
.