Jakarta –
The Corona virus pandemic did not stop mobile vendors from launching new products. As Xiaomi officially launch Redmi Note 9 Pro in Indonesia at the beginning of last month.
Priced at Rp 3 million, Redmi Note 9 Pro is targeting the middle class segment, especially for young people who like to play games. The chipset used is specifically intended to enhance the experience when playing games, namely Snapdragon 720G.
detikINET opportunity to try the Redmi Note 9 Pro for approximately a month. What is the performance like, especially for playing games? Check out the full review below.
1. Elegant Plastic Body
Redmi Note 9 Pro comes in three color choices, and the variant tested is Interstellar Gray. Although called gray, in fact this phone looks a little bluish.
Unlike its predecessor, Xiaomi decided to take off the color gradation design on the Redmi Note 9 Pro. The combination of solid gray and a shiny surface makes this phone look very elegant.
Redmi Note 9 Pro Photo: Adi Fida Rahman / detikINET
But its shiny body is also a magnet for fingerprints. To protect the body of the cell phone from collisions and scratches, Xiaomi coated the back of the phone with Gorilla Glass 5 and provided a black silicone case which unfortunately just hid the small color of the Redmi Note 9 Pro.
Redmi Note 9 Pro has dimensions of 165.8 x 76.7 x 8.8 mm and weighs 209 grams. When held the body feels a little wide but still comfortable when using a cell phone with one hand.
The frame of the four corners of the cell phone is made of plastic with a matte finish. Even though it looks incompatible with the glossy back, this matte plastic makes the phone more comfortable to hold.
Redmi Note 9 Pro does not have IP certification for protection from water and dust. But this cell phone has a P2i coating that can at least protect the cell phone from splashing rain.
The four rear cameras are placed in a slightly protruding box module, which prevents the cellphone from lying flat when placed on a flat surface such as a table. But this problem can be overcome with the help of a case.
Power and volume buttons Redmi Note 9 Pro placed on the right side. This power button also functions as a fingerprint sensor that is more easily achieved than the fingerprint sensor on the back.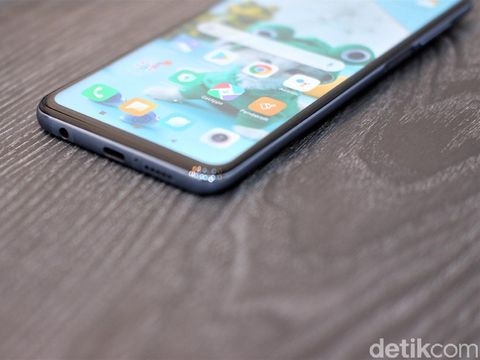 Redmi Note 9 Pro Photo: Adi Fida Rahman / detikINET
SIM and MicroSD card slots on the top left hand side. While the bottom occupied by speakers, USB-C ports and 3.5 mm headphone jacks that are increasingly rare in many cellphones today.
Above the front camera there is a very thin earpiece grille and LED for notification. Bezels on the top, left and right sides are considered to be very thin, while the bezel on the bottom is still quite large but not so annoying.