A volcano south of the Filipino capital Manila is about to erupt. On Monday morning, volcano Taal spewed lava for the first time after Saturday after huge smoke development ended up in the area. Thousands of Filipinos have been brought to safety.
According to the Philippine Institute for Seismology and Volcanology (PHIVOLCS), the lava came out with lightning bolts and small quakes. The alertness level was then raised to the second highest phase.
Experts warn that the eruption can follow within a few hours, but Filipinos could also live in uncertainty for weeks.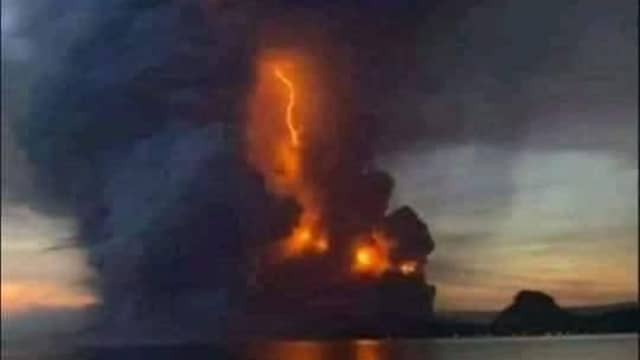 The lava comes out with lightning bolts. (Photo: Matthieu Pieters)
"Eruption can cause volcanic tsunamis"
Because volcano Taal is in the middle of the crater lake of the same name, there is a chance that flying boulders could cause volcanic tsunamis. At least eight thousand inhabitants of islands within the lake and nearby towns therefore had to leave their homes.
Also, about two hundred flights have been canceled due to the miles of smoke clouds. KLM announced on Sunday that it had canceled all flights to Manila on Monday. The international airport on the island of Luzon, which is one hundred kilometers to the north than Taal, was preventively closed on Sunday because no air traffic was deemed possible.
Taal is one of the most active volcanoes in the Philippines and is considered one of the most dangerous volcanoes in Southeast Asia. There have been more than 35 eruptions in the last 450 years. The most recent took place in 1977. At a previous extreme eruption in 1911, at least 1,500 people died.
.