Liverpool's big 4-0 loss to Manchester City, according to both trainers, had nothing to do with the title celebration of the Dutch champion. The team was as eager and concentrated as usual, Jürgen Klopp and Josep Guardiola thought.
"I think they drank a lot of beer last week. But that was really out of their blood tonight," said City coach Guardiola.
Liverpool captured its first league title in thirty years last Thursday as competitor City lost 2-1 to Chelsea. The game against City was the first game for 'The Reds' since the championship.
Before the game started at the empty Etihad Stadium, the City players formed a guard of honor for the new champion. "I saw a great focus in the faces of the Liverpool players at the time," said Guardiola. "They really didn't want to lose this game and they fought hard from the first minute."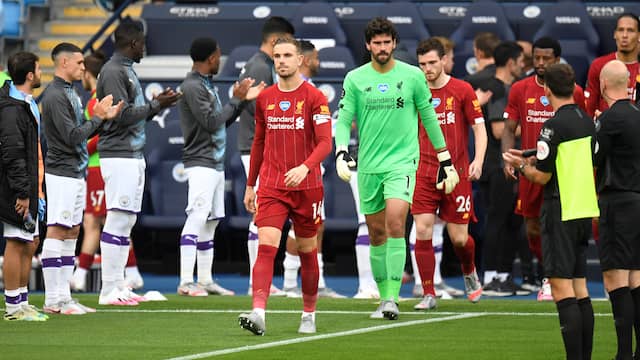 City players formed an honorary hedge for champion Liverpool before the game. (Photo: Pro Shots)
"If there is one team that can give you such a beating, it is City"
At halftime, however, Liverpool was already 3-0 behind. But Klopp also did not want to know about a lack of effort after the title party.
"If you would like to write an article about reduced focus, go ahead," said the German coach at the post-match digital press conference. "But I liked the attitude of my team, their commitment was great. The players fought with everything they had."
"If there is one team in the world that can give you such a beating, it is Manchester City. And of course they wanted to prove themselves against the champion," said Klopp.
"But this has nothing to do with last week's title celebration. This defeat just hurts a lot."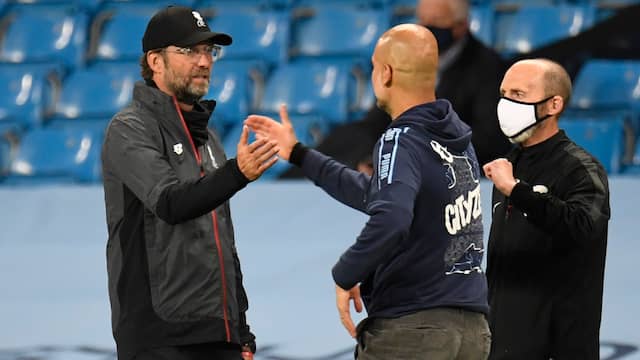 Jürgen Klopp (l) and Josep Guardiola after the game. (Photo: Pro Shots)
Liverpool are chasing records in final games
It was only the second league loss of the season for Liverpool. In the last six games, the team of Virgil van Dijk and Georginio Wijnaldum are still chasing some Premier League records.
Liverpool still need fifteen points to beat the 100-point record (Manchester City in the 2017/2018 season). With victories over Aston Villa, Burnley and Chelsea, Liverpool have won all their home games this season. And there has never been a team more than nineteen points ahead at the end of the season, Liverpool are now twenty points ahead of City.
View the stand, the program and the results in the Premier League